Chibi Fuujin
Chibi Fuujin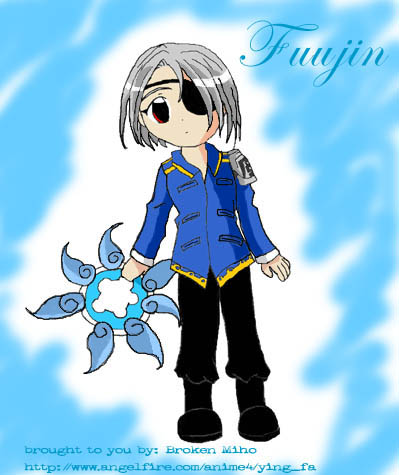 Description
Chibi Fuujin.<br />
<br />
I play Fuujin at Chain of Memory over at greatestjournal, and as usual, I decided to draw her.<br />
<br />
No, wait...<br />
<br />
Actually, this was drawn as a gift to someone whose art I am using for an icon for a character journal (I got permission first before using the art, mind you)<br />
<br />
This is my first drawing ever of her, and I think it turned out well, despite my lack of reference pictures. I love drawing chibis, and a Chibi Fuujin is no exception.<br />
<br />
Also, I don't do shading all to often, so this was yet another opportunity to do so, although I will admit it isn't as well as I would hope for it to be.<br />
<br />
T.T<br />
<br />
I still can't do backgrounds, though.<br />
<br />
Oh, if picture quality seems fuzzy, blame the internet. DeviantART and Angelfire do the same thing.
General Info
Comments
5
Media
Unspecified
Time Taken
Reference