Kohaku, my .hack//DUSK charrie
Kohaku, my .hack//DUSK charrie
Kohaku, my .hack//DUSK charrie
by
Yu_Ri_Pa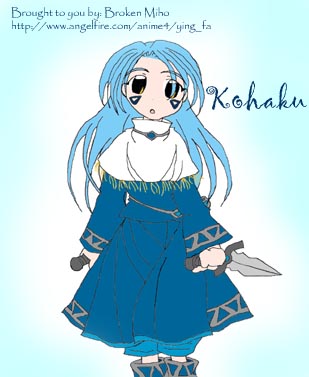 Description
Whee...this is Kohaku, my .hack//DUSK character. She's a low mod, mainly because she's so stubborn and won't listen to people. She used to have a higher ranking, but she kinda got demoted.<br />
<br />
In The World, there is always an instance where someone either looks like you or has the same outfit. Kohaku's outfit is somewhat based off of Hotaru's, although Hotaru is a Wavemaster and Kohaku is a Twin Blade. It's just that the default outfit for a female Twin Blade didn't look as cute as Hotaru's robes and such, and um...<br />
<br />
*cough*<br />
<br />
I play her at a friend's RPG. I also have a pic of Kohaku's player, Haruko, that I've drawn.
General Info
Comments
3
Media
Unspecified
Time Taken
Reference