Zaron Nitro: Champion of Dragera
Zaron Nitro: Champion of Dragera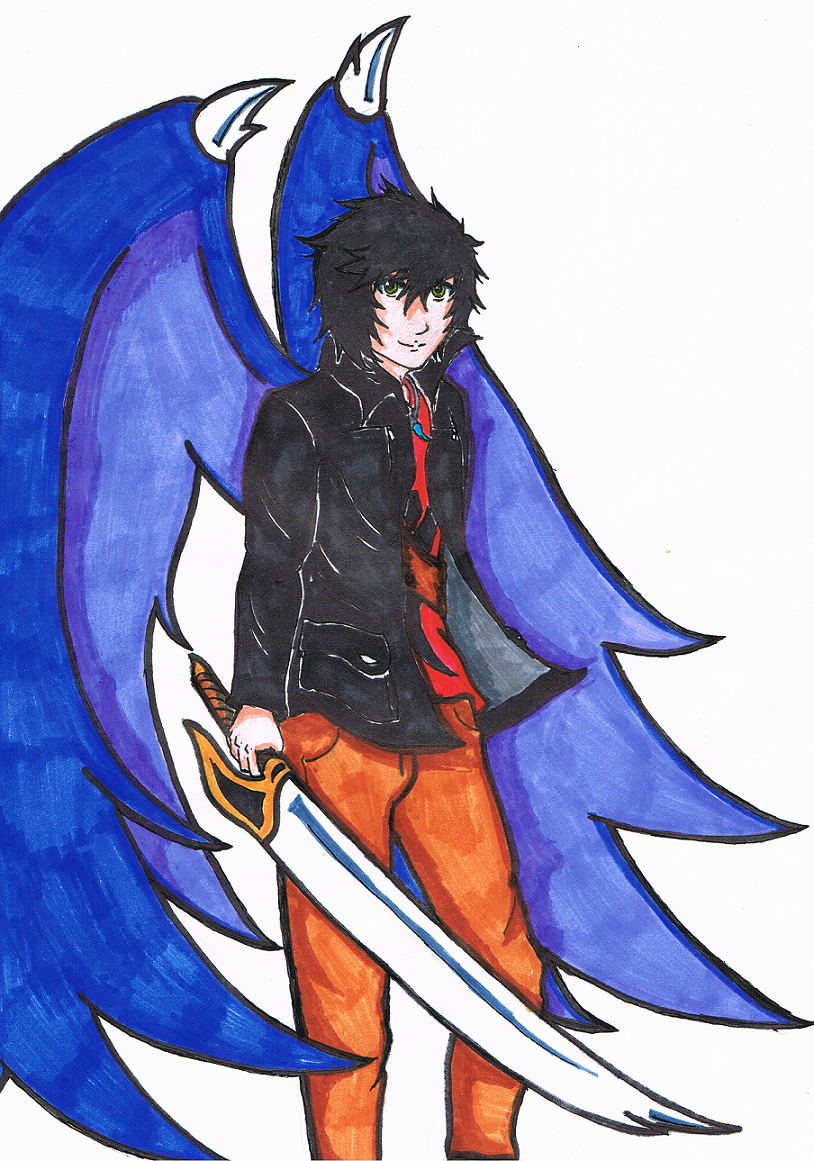 Description
Zaron Nitro, Son of the War Hero: Vieron Nitro and the Battle-Hardened Vigilante: Terra Nitro, is destined with the momentous task of mending the bonds between two broken Nations of Averon. Not matter the looming hardships or high possibility of failure, his determined strive to succeed in his mission shall never falter.

Here, dear people, is the new, updated and possibly 'final' version of the Protagonist for the novel series I am currently writing. For a long while, I have wanted to improve Zaron's appearance from his '2014' version, yet I could never grasp his look correctly until now. Whilst not much has technically changed from his 2014 appearance, smaller details regarding his jacket, wings, and overall clothing have been refined. In addition, he now has a magnetic holster underneath his jacket for his weapon: the Venra Blade. And to top it off, his arm-blade: Excora has been removed due to story-related reasons ... basically, its too early in the story for him to be wielding it.
I am very happy with how this turned out and I hope this could lead to other, more dynamic artwork of him in the near future.

A few details on Zaron Nitro (as of this artwork):
Age: 16
Race: Drageran/Dragoon
Hometown: Aera
Primary Weapon: Venra (Greatsword inherited from his Father)
Combat preference: Ground and Aerial close combat.
Strengths: overwealming power and endurance.
Likes: Adventure and Exploration, listening to music (mainly Rock/Metal), experiencing new things, sleep, Veena Alko (closest friend and possible romantic interest)
Dislikes: Being woken up abruptly, his older brother: Darrow Nitro, damaging his jacket, possibly-haunted buildings and areas.
Fear: Phasmophobia (Fear of ghosts and the paranormal)
Personality: An Emotionally-driven warrior who relies heavily on adrenaline and excitement during combat, resulting in him being up-beat and optimistic ... yet also short-tempered and very accident-prone. Whilst lazy on occasions (or 'laid-back' ... in his own words), it doesn't take much effort for him to show interest and anticipation for upcoming tasks and various challenges.