dA Megaman Meme
dA Megaman Meme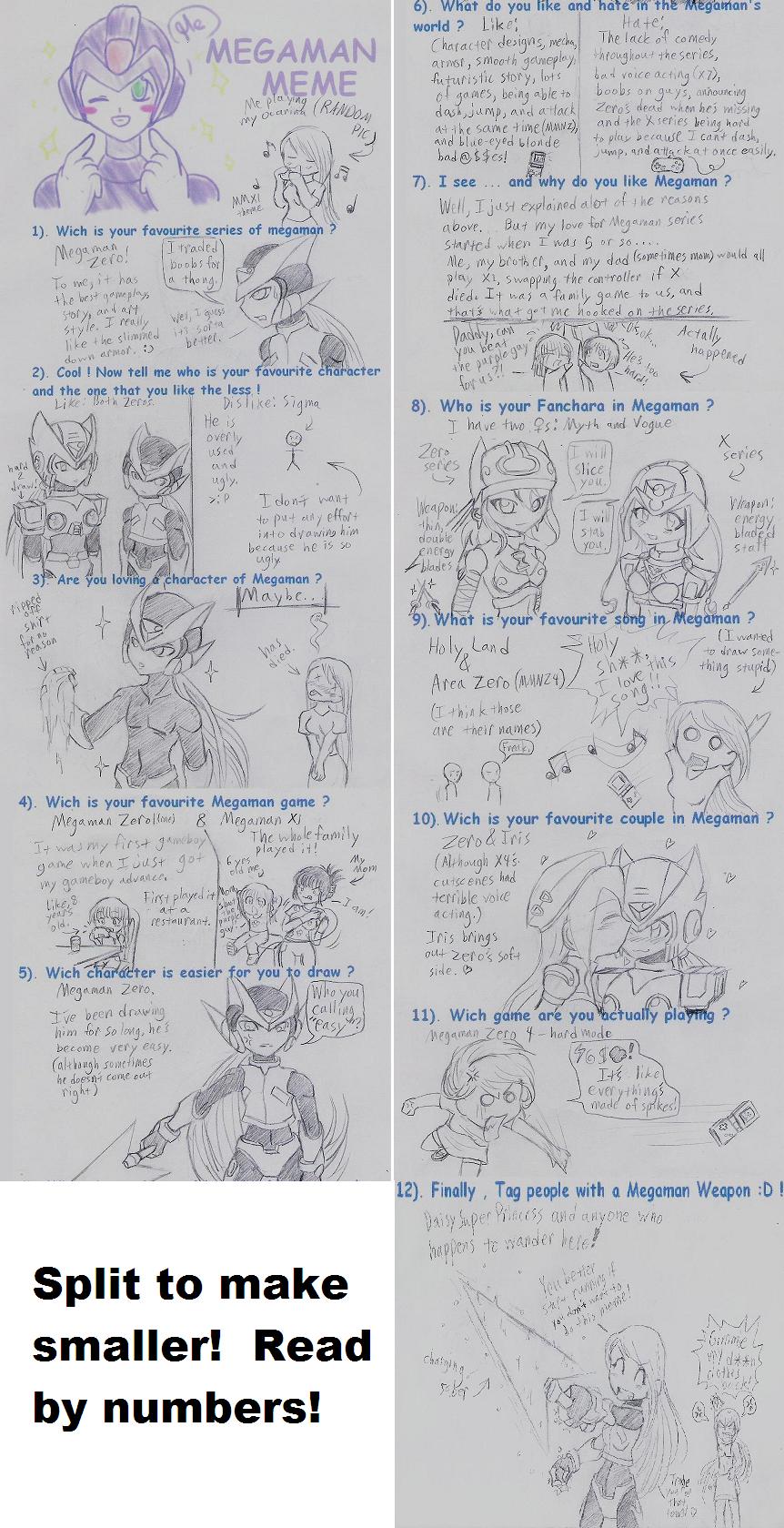 Description
Originally for posting at dA, I decided to post it here when I had such trouble uploading at dA. It's also resized smaller and cut in half for FAC, so it may be hard to read.
Got tagged by Program_00X (she is awesome). lol I feel honored. =D
Ok this was really hard, cause I had break up the meme into four parts and then print it out so I could draw on it(I don't have photoshop or tablets or whatever), and when I scanned it back on my computer I had to paste it back together! *panting*
But it was fun to draw!!! 8D Alright here's a little information about each section, cause I was running out of room on the pic. :P
1:Some fans don't like the art style. I don't understand why...
2:Zero's shoulder boxes are the hardest for me to draw of him.
3:Why would he tear his shirt off? To get a better look at it! XD
4:Well, my mom doesn't really look like that, but I got her hair right!
5:GAH! Sorry Zero!
6:The list could go on and on and on and on and.....
7:Vile's the "purple guy". Oh and that's supposed to be my brother and me, chibi.
8:Myth on the left, Vogue on the right.
9:I'm talking about th remix music on the CD.
10:Why do alot of fans seem to hate Iris?
11:I still have yet to beat it...
12:Ok this part is hard to read, due to reasizing. Ask if you need help. (Daisy Super Princess is at dA)
Original blank meme belongs to: yx-yukizora at dA. (blank meme:
http://elysium.sitesled.com/MegamanXmemeblank.jpg
)
General Info
Comments
24
Media
Graphite pencil
Time Taken
not a clue
Reference
didn't need one