Black Mamba
Black Mamba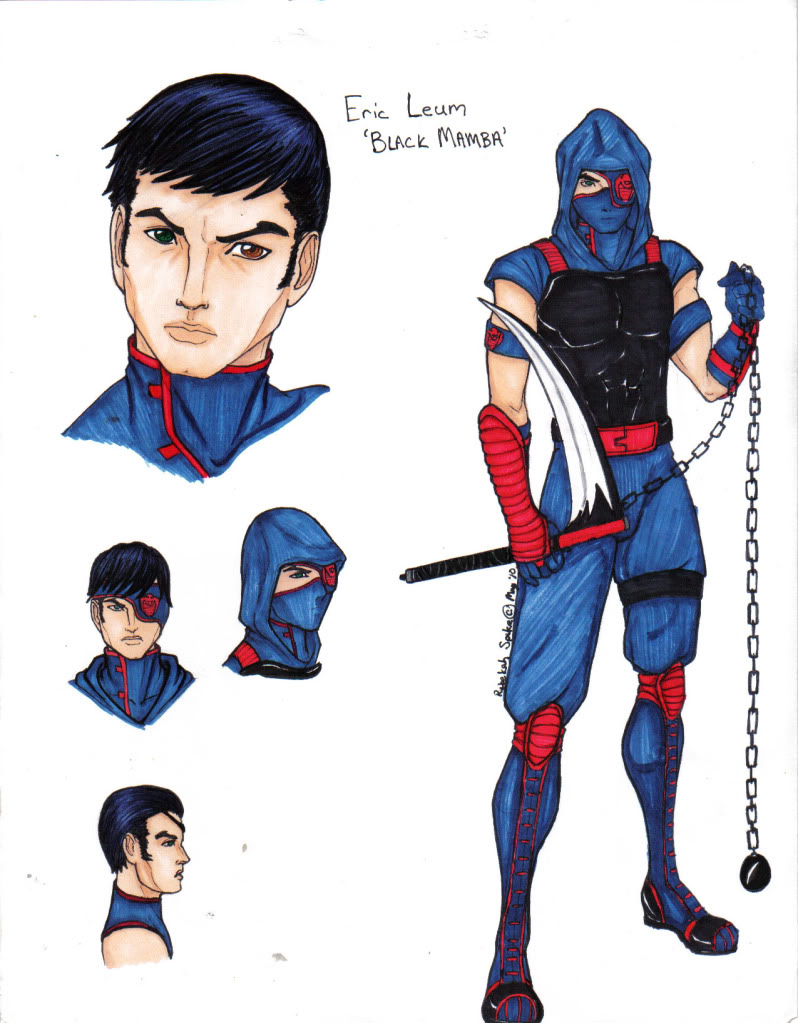 Description
A character I made up before the Master and Apprentice 2 series by Devil's Due Publishing came out; he's a street kid recruited into Cobra at 18 and due to his proficiency and growing skill with martial arts and bladed weapons, was transferred to the Red Ninjas for training, where he caught Storm-Shadow's eye.

The bodyguard of Chaplain, the apprentice of Storm-Shadow, the rival of Kamakura....

--
Bio (rough draft)
--

Codename: Black Mamba
Name: Leum, Eric
Nicknames:
Aliases:
Affiliation: COBRA
Rank: Ninja Viper
Gender: Male
Age: 24
Hair: black
Eyes: one is green while the other one is golden-hazel
Height: 6'1"
Weight: 200
Noticeable characteristics: His oddly colored eyes and tendency to wear an eyepatch to hide it.

Personality: He's the real 'tough guy' of the group of friends made up of COBRA Televiper Fredrick "Freddy" Michealson, Fredericka "Rikki" Michealson, COBRA viper Jonathan Helmsley, and Jamieson "Jamie" Helmsley. He's got a strong sense of honor that will not allow for the harm of a woman or weaker person when they are unable to defend themselves.

History: Having grown up on the streets, he learned how to look out for himself and his fellow 'street rats'. At age 18, he joined up with the forces of COBRA and proved himself to be a dedicated officer, even though at age 24 he remains only a Viper. Physically, he stands at exactly six feet one inch of height, possessing the muscular build of a gymnast.

Quotes: "Don't even think about it." "Miss Rikki made that lasagna didn't she? ... Can I have some?"