Accept It [Difficulties]
Accept It [Difficulties]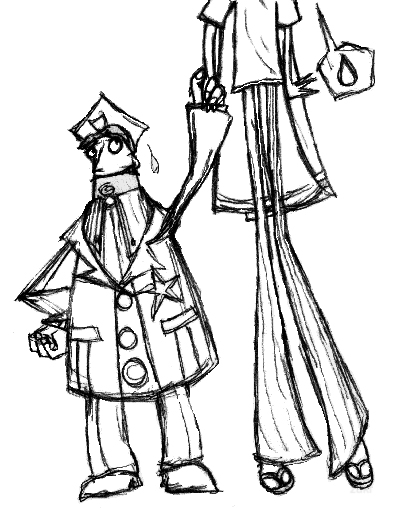 Description
I'm currently drawing BoydxFred for the
Fanart50
. :) Yeah, I'm aware it's a weird ship, and not to everyone's tastes, but I like it, and it actually gets the artist's block shifting. I'd wholly recommend doing a Fanart50 if ever you've got artist's block, or at least if you want to fill up your virtual gallery with a bucketload of fanart.
This is
Prompt 17- Accept it
, and the first fanart I've done for the challenge. It didn't take me long to sketch, something which I rarely submit, but it took me a fair while to clean up. It's not my favourite out of my prompt responses, but I'm still quite pleased with it. It's basically an illustration of the biggest difficulty I'm going to have with this "ship", as the height differences are awkward [STUPID USELESS FACT: Boyd+His hat is roughly as tall as Fred's legs are long]. Oh, and that hand-holding is so risque it's likely it'll bust a few veins.
Boyd Cooper and Fred Bonaparte (c) Doublefine, Tim Schafer, People that are not me.
General Info
Comments
0
Media
Graphite pencil
Time Taken
30 Minutes?
Reference
Own personal sketches