Paradoxes
Paradoxes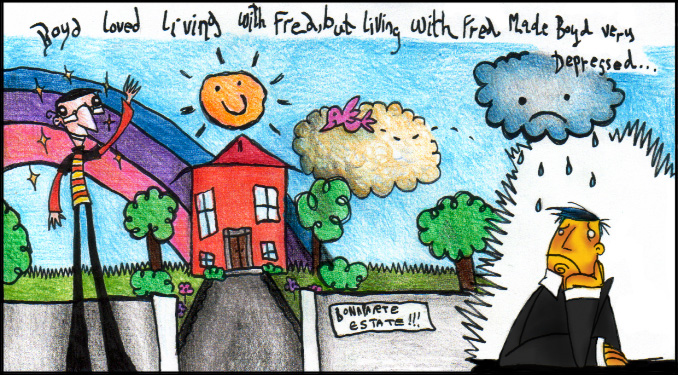 Description
I'm currently drawing BoydxFred for the Fanart50
http://community.livejournal.com/fanart50/profile
. :) Yeah, I'm aware it's a weird ship, and not to everyone's tastes, but I like it, and it actually gets the artist's block shifting. I'd wholly recommend doing a Fanart50 if ever you've got artist's block, or at least if you want to fill up your virtual gallery with a bucketload of fanart.  
This is for
Prompt 32- New Place
. This picture was inspired by a certain line in a certain Psychonauts fanfiction,
Up Against the World
, which you can find here:
http://www.fanfiction.net/s/3693751/1/Up_Against_the_World
. It's a semi-AU post-game fanfic where the Psychonauts are corrupt, Sasha is in prison, and Razputin is dead. I swear.
This particular line appears in chapter 11, if my memory serves me correctly, and is probably one of my favourites. The ex-asylum inmates all meet up in the previous chapter to celebrate a special event, and later on in this chapter Boyd muses over what the ex-inmates have been up to, which is cool. They're all vastly more successful than he is (which is to be expected, since Boyd doesn't seem to have much talent in anything), and he reflects on that. In this particular line, he's referring to when they first got out of the Asylum, and he had nowhere to go, so Fred (who discovered he had a huge inheritance due) suggested Boyd stay with him for a while.
The line just SCREAMED little kiddie's picture book, so I HAD to draw it. And, if I can use it for my Fanart50, then why not? [The fic also has Fred/Boyd in it. Joy joy joy, I squee with delight]
General Info
Comments
0
Media
Other digital art
Time Taken
Reference