It's Broken
It's Broken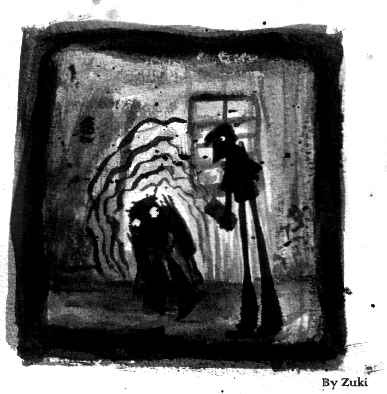 Description
Indian Ink on really old and bad watercolour paper, Number 6 Pony hair brush. Vague attempt at memory vault style, though mostly just because it was darn fun.
I'm doing BoydxFred for the Fanart50! It's really fun, even if the pairing is obscure and not to many people's tastes. :P  
This picture, 
Prompt 40: It's Broken
, is due to a little fic-challenge thing I was doing, where you pick a fandom, put your music player on shuffle, and write a small drabble based on whatever song comes on. Catch is, the drabble can only last for the duration of the song.  
It's a short and simple drabble, so I thought I'd post it. I think the song I got was Good Charlotte's
Victims of Love
. Disgustingly sappy title, I know. The main reason for the direction I took was more the fact that the first lot of lyrics chimes
"You play with Fire, it's gonna burn you"
, or something, not the saccharine title and theme. :P
Title: Embers
Character/s: Boyd Cooper, Fred Bonaparte
Pairing: Boyd/Fred
Warnings: Slash.
Inmate Cooper, Boyd. Ruled Criminally Insane on grounds of Arson. Possible Schizophrenia. 
 
Chief Orderly Bonaparte looked over from the case notes to the shivering, twitching, unhappy man sitting in front of him. He was too much of a bleeding heart. Always fell for the most dangerous ones. 
 
"What's wrong?"
HAHAHA DID THE OOC BURN YOUR EYES? THE AMAZING CONTENT OF THESE WORDS? LOLLOLZ!!!  
Fred Bonaparte and Boyd Cooper are (c) to Tim Schafer and Doublefine and people that are not me.