Protège Moi
Protège Moi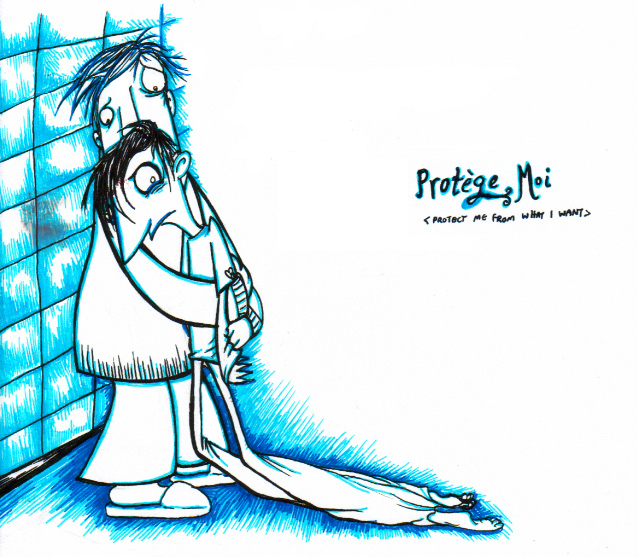 Description
I'm doing BoydxFred for the Fanart50 (
http://community.livejournal.com/fanart50/profile
)! It's really fun, even if the pairing is obscure and not to many people's tastes. :P  
This picture is for 
Prompt 18: Cold
, by colour and by nature. I drew it when I was in a really awful mood, hence the "emo"-ish theme. D: Listening to Placebo's "Protège Moi" did not help to lessen this theme or my mood. It's a lovely song, though.
I've always been intrigued by the simple fact that Fred is so much of a loser that he considers sanity to be boring. Once you banish Napoleon, Fred returns to his listless state, bored in his own mind. He appears semi-dynamic later on, but it always makes me wonder... what sort of guy seems to prefer insanity to normality? [Well, all of this pondering, on top of the fact that Fred was straitjacketed, which is either because he was a danger to the other inmates, or to himself]  
I was originally going to use the blues in this picture to assist in photoshop, perhaps to make good use of the smudge tool. But I liked the effect as it was so much, that I decided to leave it as it is. The little reddish smear was added in photoshop, as you can't exactly achieve much transparency or subtlety with textas, but that's all.  
Fred Bonaparte and Boyd Cooper are (c) to Tim Schafer and Doublefine and people that are not me.
Protège Moi belongs to a nice little band named Placebo. D: They're not me, either.
General Info
Comments
6
Media
Ink or markers
Time Taken
1 Hour
Reference