Tramp
Tramp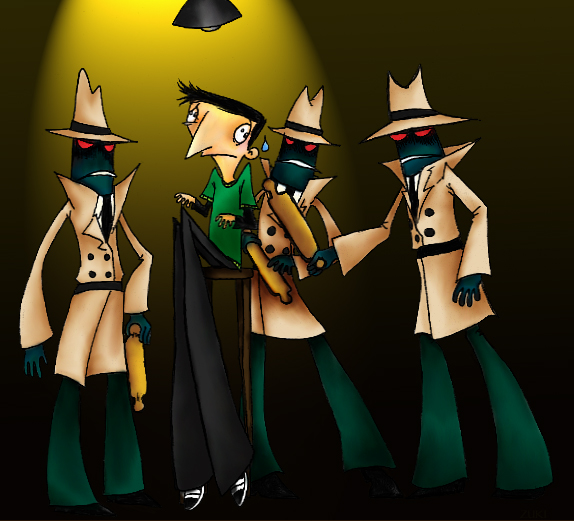 Description
I'm currently drawing BoydxFred for the Fanart50 (
http://community.livejournal.com/fanart50/profile
). :) Yeah, I'm aware it's a weird ship, and not to everyone's tastes, but I like it, and it actually gets the artist's block shifting. I'd wholly recommend doing a Fanart50 if ever you've got artist's block, or at least if you want to fill up your virtual gallery with a bucketload of fanart.
"What is your relation to Cooper?"
"I hope you are not trying to steal my husband, tramp."
"What happened inside that house?"
"Rhubarb is a controversial pie variety."
This is for
Prompt 37- Thief
. I actually did another version of this and tried to post it ages ago, but it kept on being bounced back because apparently my sexual content rating was too low, or something. Baffled me. It was just Fred being chased by G-Men! XD It's not like they're gonna "gang up" on him... But, anyway, it was a good thing, because this version is lyke waaay better, lolz.
Don't ask me how this picture works, because I don't know. Then again, I couldn't answer how Fred/Boyd works either, as you just have to accept the wholesome milky goodness.
<3
Let that be a lesson in life.
Fred Bonaparte and Boyd Cooper are (c) to Tim Schafer and Doublefine and people that aren't me.
General Info
Comments
4
Media
Digital drawing or painting
Time Taken
Reference