Early Sunset
Early Sunset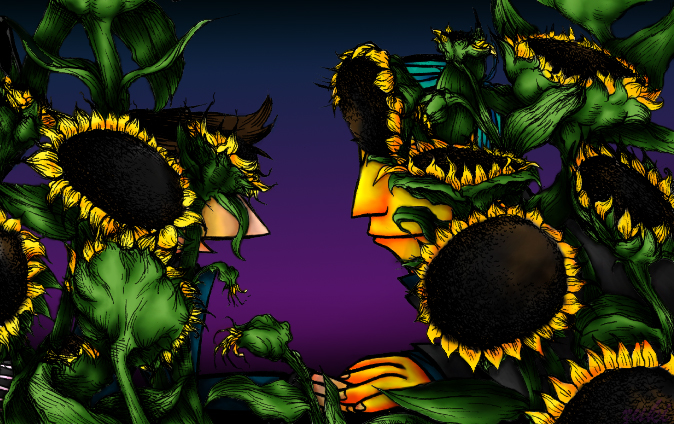 Description
I'm currently drawing BoydxFred for the Fanart50 ([url]community.livejournal.com/fanart50/profile[/url]). :) Yeah, I'm aware it's a weird ship, and not to everyone's tastes, but I like it, and it actually gets the artist's block shifting. I'd wholly recommend doing a Fanart50 if ever you've got artist's block, or at least if you want to fill up your virtual gallery with a bucketload of fanart.
Prompt 13 (AHH THE UNLUCKY NUMBER OH NOES BLACK DEATH)- Growing.
I got the idea for the prompt because on Deviantart once this chick called NakkiStiltz was liek talkin about what flowers everyon would be, rite? And she said Boyd would totally be a Sunflower and I grow Sunflowers and I was like YES NOW I HAVE AN IDEA FOR THAT ODD PROMPT. Yay.
This took me like a million hours to draw. It took me ages to draw the flowers. Fred and Boyd were really easy to draw, but THE FLOWERS. Then the colouring took forever and the shading and all that. But I think I will save the Sunflower Layer in Photoshop for use in my personal portfolio one day, so at least this was a useful fanart. :)
Fred Bonaparte and Boyd Cooper are (c) to Tim Schafer and Doublefine and people that aren't me.