... i do szklanki!
... i do szklanki!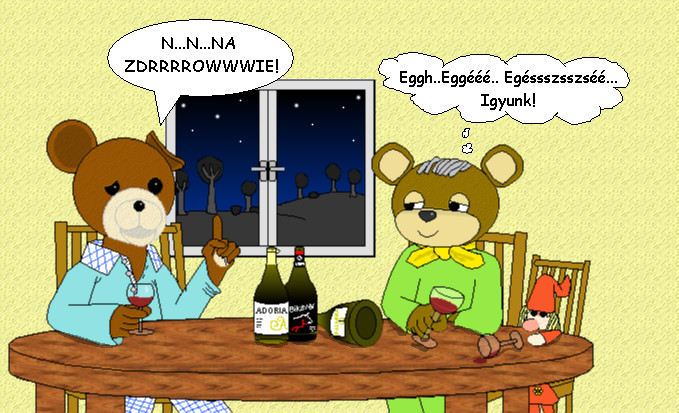 Description
I made this for a friend on dA, who also used to be active here until last year.
The basic idea came from the proverb that represents the traditional friendship between the countries of Poland and Hungary. 
It has various verisons in both languages, but all of them refer to drinking wine, especially the shorter version of them, which reads the following in Polish:
Polak, Węgier — dwa bratanki,
i do szabli, i do szklanki.
(Pole and Hungarian — two nephews,
good for saber and for glass.)
and the same in Hungarian:
Lengyel, magyar – két jó barát
Együtt harcol s issza borát.
(Pole, Hungarian — two good friends,
they fight together and drink their wine.)
The two iconic puppet bears of these countries are having fun by drinking some wine. 
Floppy Bear (called as Miś Uszatek in Polish) was the main character of the stop-motion animated show named after him.   His (and his friends') adventures and daily life can be followed in the episodes, each ending with getting to bed and singing a lullaby song to the audience: 
"
Pora na dobranoc, bo już księżyc świeci. Dzieci lubią misie, misie lubią dzieci."
(
It's time to go to bed, as the moon is shining. Kids like teddy bears, teddy bears like kids.
)  
Interesting fact that he first appeared as a comic character in 1957, but later on his character appeared in tale-books, theatrical movies and in commercials as well. Even they planned to continue the show that originally made between 1975-1987, but due to financial reasons it hasn't released yet.
The TV Bear (who actually hadn't got any name) and his puppet sidekick named Valérka are the characters of the evening-time show called Esti Mese (meaning Evening Tale), in which cartoons were aired, and they appeared only for the opening and closing scenes. Probably this is the reason that they couldn't talk, so that's why TV Bear communicates like Garfield in the strips.
Their design has been changed several times since their first appereance in 1964, for example in 1982, when they reached the look you can see in the picture. Nowadays it is considered to be the most popular one among all of the versions.
Recently, they have released a modernized version of TV Bear, but prooved to be outrageous because of the contradiction with the original conception (he had a girlfriend and a rabbit-like plush that seemingly was not living, but at the end it turned its head to the monitor and winked). Since the channel M2 turned to be a daytime-kids channel from public one, the sketches from the 1982-series rerun again every single day.
Anyway, their not so-wordy conversion is the following:
F.B.: Chheeeeeerrrrss!
TV B.: Chee...Chee...Cheer... Let us drink!   :D
Miś Uszatek: 
https://www.youtube.com/watch?v=jjutUU0mShQ
TV Bear (includes the 2nd look of him in the begenning): 
https://www.youtube.com/watch?v=kq4VLAOQyv0
General Info
Comments
15
Media
Other digital art
Time Taken
Reference