Commander Keen: floppy disk for lunch
Commander Keen: floppy disk for lunch
Commander Keen: floppy disk for lunch
by
alitta2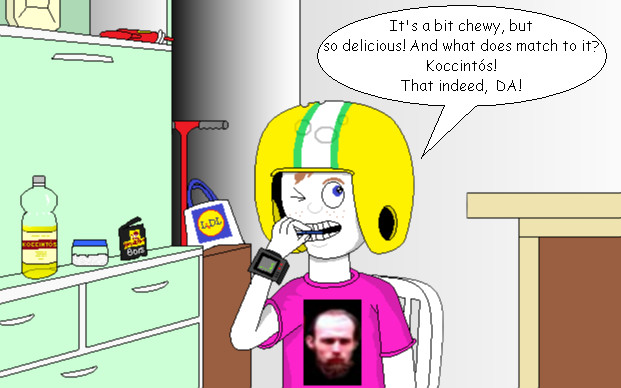 Description
I've made this one again for a friend on dA, who has his birthday today.

It's Keen acting like the "Wise and only one Great Bartos", the "all-eater CSilosophist wanderer" (yes, he eats almost everything from plastic sheets to dog poop, as a part of his own survival-theory). He is also often called as the "Hungarian Bear Grylls" by his fans of his videos, in which he explains his philosophy and shows his eating habits as well, not mentioning the tutorials for the recipes of his self-made alcoholic drinks.
In his videos, he has his own opening catchphrase: Dobra večer népem! Így bizony da! (mixing slavic words with Hungarian ones, alltogether meaning "Good evening my people! That indeed, yeah!" )
He also speaks using the letter "CS" (pronounce it as "ch") at several words, and even some specific ones like "frutyúb" instead of youtube, "csöbronit" instead of internet, and so on...