Éjjeli tablet lájv, iligy Jon nem csinált lasagnát Xd - Gift for TeeJay87
Éjjeli tablet lájv, iligy Jon nem csinált lasagnát Xd - Gift for TeeJay87
Éjjeli tablet lájv, iligy Jon nem csinált lasagnát Xd - Gift for TeeJay87
by
alitta2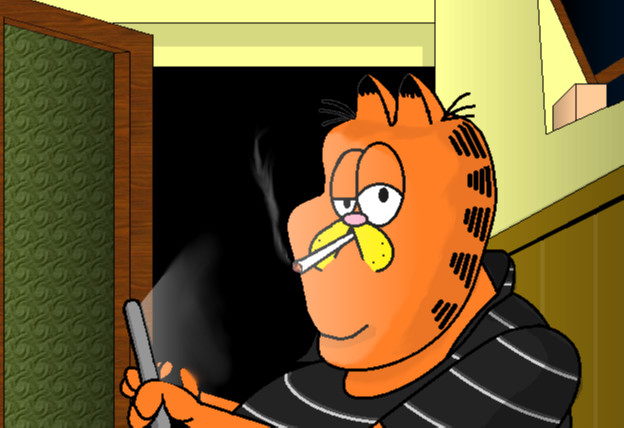 Description
This is a small gift I made for TeeJay87's birthday :)
It's Garfield as the youtube-vlogger Krisztián Molnár, who got to be famous by his live streamings in which he gets drunk while listening to techno and rap music. This event is called "bebaszós lájv" (getting-drunk live), but he regrets to do it often, as he makes these streams only if he gets enough donation through PayPal. 
Here is an example for such: 
https://www.youtube.com/watch?v=G3w2QEzdpO4
He is also notable by his question-answer videos, where he answers to some loaded questions sent by his fans (the answers are reflecting to his poor knowledge, so he answers them usually badly).
With daily frequency, he makes the subject live streamings through his Huawei P10 smartphone and/or a tablet like this latest one: 
https://www.youtube.com/watch?v=570JOQ-eLFg
The subject title is a parody referring to these videos, it means: 
Night tablet live, the jealous Jon didn't make Lasagna Xd.
I admit the above is not really enjoyable, I just inserted it to show how does it look like. 
However, some guy made subtitles for a few of Krisztián's videos in English, I would recommend to watch rather this: 
https://www.youtube.com/watch?v=YFYpqpD8Aqo
Due to his appeariance in Youtube, there are plenty of remixes and parodies that have been made using his catchphrases.
The most frequent one is "irigy" (meaning jealous, but he pronounces it as "iligy", as he burrs).
He calls everyone and everything like that who critisises him or is simply against him. 
Recently in a tv show, his channel was nominated as the 6th WORST of Hungarian Youtube.
It was even funnier that he made a reaction-video for that one, for what Péter Dancsó (another famous Youtube vlogger, who was one of the criticians in that show) re-reacted to :D
Happy birthday TeeJay87! Hope you like it :)
-----------------------------------------------------------
Garfield is created by Jim Davis
Krisztián Molnár is an existing fatso from YouTube :D
General Info
Comments
7
Media
Other digital art
Time Taken
Reference