So many stuff in so many years - My 15th anniversary
So many stuff in so many years - My 15th anniversary
So many stuff in so many years - My 15th anniversary
by
alitta2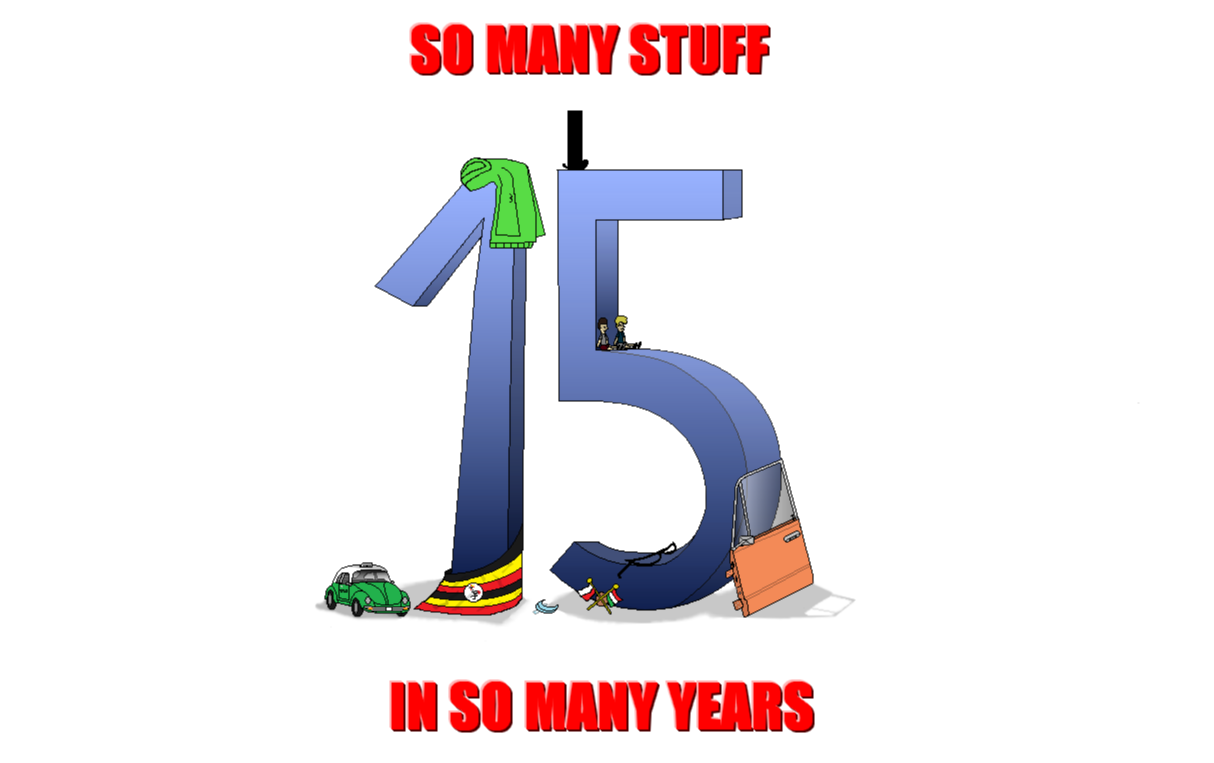 Description
Well, this day has just come, but I didn't forget it.

It started exactly 15 years ago (8th of 2006) when I submitted my first picture here on FAC.

Originally I wanted to upload a modified picture I made for fun about Mac and Bloo from Foster's Home for Imaginary Friends depicting them as Beavis and Butt-Head , but when I read the terms and conditions of this site, forbidding the submission of modification of a copyrighted picture, I said: "Heck with it! I'll make my own then".

It turned out so awful, but when I got some positive comments on it, I'd thought I'll make a better one, and so on.
I thought I just found a new hobby for myself, so I kept drawing, always trying to develop myself as much as I could.

Since then I made over 300+ pictures (from which my comic Bloody mary makes the major part, but still), so I thought that it would be a good idea to sum up all the 15 years passed by this picture.
Each item represent a topic of a fanart I made so far:

- the green cardigan and the top hat represents my FHFIF-themed fanarts
- the glasses and the crescent-shaped hair ornament represents my comic Bloody Mary, featuring Mary Test from the series Johnny Test
- the front left door of a Polski Fiat 125p pick up represents my Eastern Bloc (COMECON)-made car fanart
- the Polish-Hungarian Freindship badge represents all the Polish and Hungarian themed fanart I made about cartoons, cars and other
- the Beetle scale model with Mexico City Taxi livery represents my Mexcan-related fanart, including the comic Bloody Mary
- the Uganda flag represents my Uganda-related fanart
- the Beavis and Butt-Head figurines represent... you know what

Although I haven't been really active on FAC recently, I keep working on more pictures, currently on the last chapter of Bloody Mary for instance.
Unfortunately the progress is slower than I'd thought, so I won't be able to submit it this year, but rather in the next one.

When I finish Bloody Mary, I will only submit occasionally, just like I did in the past few years, but I hope FAC will be still there anytime when I want to do so. 
General Info
Ratings
Category
Date Submitted
Views
213
Favorites...
3
Vote Score
3
Comments
9
Media
Other digital art
Time Taken
15 years :P
Reference
I think I listed everything in the description