Zakuro iro...
Zakuro iro...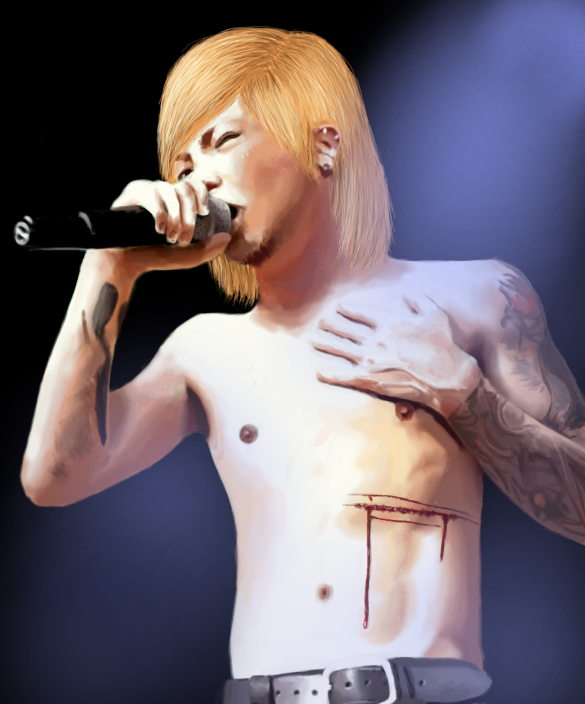 Description
After waiting in line for an hour at the Guvernment I finally got to see Dir en Grey. Fair to Midland opened for them, and they weren't that good, but their drummer was great. I missed Bleed the Dream. And when they left people chanted Dir en Grey Dir en Grey and then Kyo Kyo Kyo Kyo (what about the others?) and then they came. And I had a perfect place, only about 30 feet away, and I could see all of them (and I heard other people complaining after the concert that they couldn't see some of them, ha). I think the closest I got to Kyo was 4 feet... While he was on his way to the stage. The only thing between us was a slightly see-through black curtain. And Die looked and me, and he stared and stared and I started to feel awkward, but then he looked away. And Kyo cut himself. And Kaoru was on the edge of the stage and people in the front were touching his legs. It's fun being able to sing some of your favorite songs along with the people who actually wrote and composed them. Toshiya seemed really hyper. And I couldn't see Shinya that clearly... But I love the way he stays almost perfectly still when he's drumming instead of headbanging like crazy. No cameras were allowed, so I couldn't bring my friend back a picture of Die like he wanted me too. They threw stuff but I didn't get anything. 'Cause I was on the side. And the day after the concert I cried because it was over and they won't be back for a long time. Anyway we went on the CN tower and it was really high and the cars looked like little hotwheels toys. And we got lost on the way back.

As for the picture... I'm still getting used to Open Canvas. I still suck at it... But I like how this turned out. I used a picture of Kyo from last year at Toronto as a refrence, but I tried to make it look like he does this year... I think I got the hair wrong.

Anyway, I listened to a few songs from their newest album (gonna buy it as soon as I can) and they've changed so much... But I like where they're going. Kind of. Too much english and screaming though.

It's Kyo's birthday on the 16th, so this is like an early b-day gift. That he will never see.
General Info
Comments
3
Media
Digital drawing or painting
Time Taken
Reference