William
William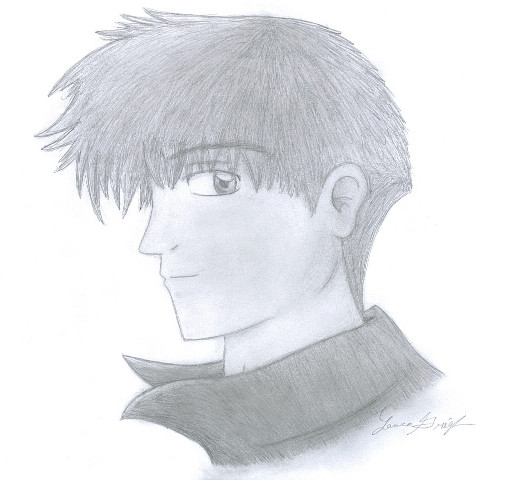 Description
● Name: William Wyman
Code Name: Passion
Age: 26
Affiliations: Acolytes

Powers: William's powers involve altering, storing, reading and changing the emotions of others and himself. At first he could only magnify and decrease pre-existing emotions in people (himself included). For example: if you were happy, he could raise or lower your happiness level. Another example: if you harbored feelings of love for someone, he could magnify that feeling of love toward that person. It's hard for him to alter a person's emotions if they are already feeling strongly about something, but if their emotions are indifferent, the task becomes much easier.

It's not until later in the story that he acquires the rest of his powers. One of his new abilities is the power to copy and paste the emotions of others into himself. He can choose to store any newly acquired emotions for later use, or he can immediately use it upon himself. For example: if you were scared of a clown at the circus, he could inconspicuously absorb the amount of fear your experiencing and store it in its own separate emotion compartment (happiness, love, anger, depression and so on would all have their own compartments as well). After storing these emotions, he can later project them onto other people or himself. However, he can only store so much of a certain emotion before he can't carry any more of it, and once it's all used up he can no longer project that emotion until he gets more of it (he can't instantly refill an emotion tank). If he needs to, he can project the emotion /he/ is currently feeling onto someone else as well.

When projecting emotions onto other people William is forced to shoot a colored beam out of it hands (he doesn't have to do this when projecting emotions onto himself). The color of the beam represents the emotion it holds (anger is red; pink is love; dark blue is depression; and so on), and if it hits its target the person will feel the level of the emotion he shot them with (he has to use more of an emotion if he's pushing a pre-existing emotion out). This is the only visible attack William has.

Appearance: William is naturally a very hansom man —though he never acknowledges it—. He has short dark brown —almost black— hair and a charming smile. His eyes are a stony blue, and he usually wears dark colored shirts with baggy blue jeans atop black tennis shoes. He'll also wear black pants, and while in public, a trench coat; just for effect. He stands at around 6'2'' he has a strong but lean build to compliment his hansom features.

History: One cold December night, deep within the heart of an Alaskan snow storm, a baby was born, and his name was William. He was the third and youngest son born to this family; his two brothers being six and four at the time. But unlike his brothers, he was considered the "accident." His parents had never intended to have more than two kids, so the sudden arrival of a third child threw them off. However, they weren't about to throw out a perfectly good slave, so they kept William and he grew up doing all the chores around the house while his brothers were doted over. His dad was a woodsmen and would often force his youngest son to chop wood until his hands blistered, or go fishing until he dragged some fish out of the little pond a half mile from the house. This task would often involve overnighters in the freezing Alaskan wilderness, for if William returned empty handed, his father would beat him. As if to add to this abuse, his dad was an alcoholic, as was his mom, and William would often be forced to leave home to escape the wrath of his parents. He would often times try to defend himself, but he could never compete with the brut strength of his dad, or the sharp nails of his mother, and he usually crawled away with more wounds than necessary. His brothers, having been tainted by their parents, also believed William to be lower than themselves, and gave him the nickname "Accident," or, "The Accident," which is what his parents still referred to him as.

It was after one of his parents beatings (over spending the time to catch five fish instead of the mere four that were necessary to feed the family) that William laid in his "room" in the attic and felt a deep sense of sadness overcome him. It was winter, and the season of darkness was upon Alaska. This only added to the seven-year-old's depression, and at that moment his powers kicked in for the first time. Tuning in to his intense feeling of angst, his powers swelled and amplified that feeling to uncontrollable levels, putting William into a temporary state of shock. His parents tried to beat him out of it, but nothing they did could make him respond, so they took him a little distance from the house and left him outside in the hopes that the cold would arouse their slave. William sat outside for little more than a few hours before being found by a couple of hikers who instantly took in the frostbitten boy. They carried him back to their cabin and cared for him for the next three days, and while his frost bite healed, his shock (they'd assumed was from the cold) did not. It was then that William's father finally found him, dragged him back home and gave him one of the more ferocious beatings of his life. At that moment William's powers swelled again, and above his depression rose anger, hatred and retribution, and without thinking the once still boy grabbed for the nearest weapon he could grab (which happened to be a small hatchet), and swung at his surprised father. He missed however, and his dad promptly pried the weapon out of his son's hands before hitting him hard on the head and knocking him out for the next two days. Upon waking up William was not the same boy he used to be. The depression and anger his powers had amplified were imprinted in his mind, and he could no longer see past them to the hope he once felt. His powers had taken over, and for the next five years he fed upon them; doing his chores to avoid beatings, but taking every opportunity he could to make life miserable for his parents and brothers.

But he couldn't live like that forever, and at the age of twelve he ran away from home, traveling through the Alaskan wilderness all the way to the border. From there he started hopping trains (almost getting arrested a few times) and ended up in Washington at the age of thirteen. With nowhere to go, he decided to settle there (living near the golf course and steeling food from the guy driving the snack cart around the green), and even enrolled in the local middle school under an alias. However, he was eventually found to be without parents, and was forced to run once more. Taking a path south through Oregon and Nevada, he eventually discovered the existence of his Great Aunt Susan, and promptly went to live with her in California. However, he couldn't stand living with his senile aunt, so he left her to live with one of his few friends. This arrangement didn't last long though, and William was soon thrown out of his friend's house and facing life on the streets once more. Not wanting to go back to the salvation army (like he'd been forced to do in Nevada), he tried to go back to his aunt's, but was disappointed to hear that she'd died shortly after he ran away. However, she had a will that left him all of her money (which was a lot), and with his new found fortune William was able to rent an apartment at the age of sixteen. He lived there with his roommate, Rico, until getting accepted into a prestigious boarding school for his singing abilities. It was then that he was finally able to live a semi normal life. His powers still had a hold on him however, and he had very little friends due to the ornery attitude it caused. But life went on for William, and he was able to go to college and graduate by the time he was twenty five. At this point he got a job as a lawyer (even though his major was psychology), but was quickly fired after suddenly turning on his client during court and defending the other side. At this point he was without a job and with little money left from his aunt's will. However, the sudden appearance of Magneto gave him new opportunity in life, and with nothing else to do, he joined the Acolytes.