Black Magic
Black Magic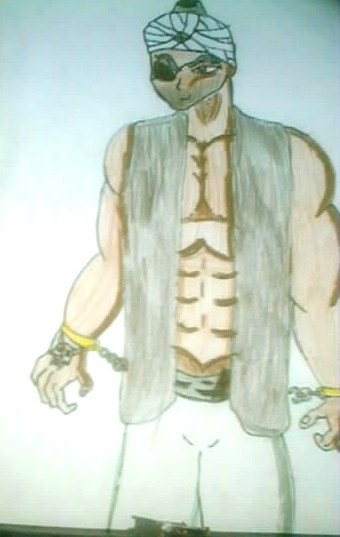 Description
Scheherazade is the eldest and most dangerous of the Sierra children (although all of them are in their 20's, except Vordor, who is 16.), raised to be a practicioner (sorry if i spelt that wrong.) of black magic (a classic example would be similar to Diablos' Demi in FF8.), He was banished from the face of earth by his younger Brother, Zanzamar, and was ealed in a magic- proof vault-like thing. During the first dragonball, (before the end, where he's sealed away.) He is enlisted as a high ranking officer of the Red Ribbon Army, assigned to eliminate his siblings, with the exception of:
Mahmoud (Earth Magic.)
Gryshnak (Time magic.)
And Syed (Wind Magic.)
Who were also enlisted, but escaped from Zanzamar at the end.

Info.
Age: 29
Weapon: Large battle axe with serrated edge
Hair: (if he did have any, black.)
Quote: Fool! You haven't the smallest chance of beating me!
Prefered meal: Curry, normaly beef
Prefered drink: White wine.

Alternate quote: Saiyens are all the same, all bark and no bite.

Was pretty hard using my own hands as reference.
General Info
Comments
0
Media
Graphite pencil
Time Taken
1 hour, close to
Reference
none