Joey
Joey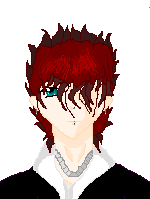 Description
Chistute, or more commonly known as Joey Shizudo, is a 20 year old die hard rock and metal fan, with a cut of Emo.
However, beneath his stage guise of a madman similar to Blackie Lawless' act, lies an abused and tortured child, 13 years of pain and desolation behind him.

Joey hates the world of fame that he was pushed into, trapped in a world of consumerism, drugs, drink and cash, he has no 'real' friends, he used to, that was before he was forced into a world of pain and lonlieness.

Joey has 4 brothers, one of which was the cause of his tormen; Cory, the other three were after Joey was born, and Matthew, the youngest, was treated in a similar way to Joey.

Joey, however, escaped from the press and everyone else, and settles down in a large house not far, bizzarely, from the Hinata apartments. This is where his life changes for better as he meets up with Kistune; his old friend, whom he still has a flaming passion for (Unknown to her of course, he does a good job of hiding it.)

Later in the series, Joey finally tells Kitsune, and strangely, she has no problem wth it. (Probably all that cash sidetracked her mind.)

In Love Hina again, Joey ends his contract, declaring 'I've got enough cash, and a servitude to you is NOT what I want.'
And, at the end of it, he asks Kitsune to marry him.
General Info
Comments
3
Media
Pixel art
Time Taken
Reference
Rester Image