The score is even
The score is even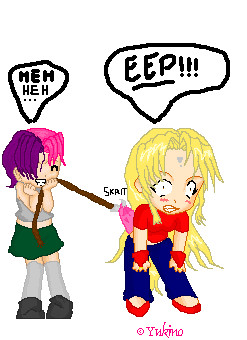 Description
ok: Emma's base is an edit of the same one used for me in 'she and I', so follow the link there, and credit goes to The World of Risa.
Ranpha's base is an edit of a yukino land base:
http://yukinoland.altervista.org/bases_mix.html
During her time onboard the 'Elle-Ciel' (i think that's it's name), Emma gets into a rivalry with Ranpha.
After Ranpha stole and sold Emma's underwear(making the score 1:0, gotta find a way to put this pic up, as I've drawn it, but no scanner at my house><). Emma thinks on a way to even the score...
And here it is; a rather nasty(if not badly done, couldn't find a way to do it with hands.) wegie!XD
General Info
Comments
1
Media
Pixel art
Time Taken
...
Reference
'WOR' and 'Yukino Land' bases