Komoe Yamataka
Komoe Yamataka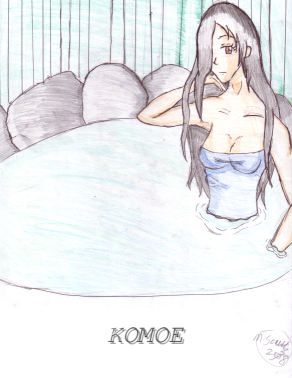 Description
Komoe, when she was alive
Komoe(c) me
Pose=mine

Name: Komoe Yamataka
Age: (here 32)
Height:5ft 9in
Weight: (lost weight recently)
Date Of Birth: 7th July
Hair Col.: Black
Eye Col.: Brown
Race: Sohozakai

While she was alive, Komoe was the most beautiful, graceful and cultured woman in her village. Many men fell for her alluring looks, including her own brother, who demanded her hand in Marriage.

Komoe refused, making a reference to the Sohozakai laws, that stated marriage between two first degree family members.

Infuriated, her brother ordered his servants to capture her, and, leading them to an abandoned mansion deep within the forest, did unspeakable things to her, before gouging her eyes out and slitting her throat.

However, Komoe, now an 'Onryu' (vengeful spirit), has laid waste to her brother and his minions, and now she resides inside the same mansion where she died. Forever waiting to drag any unfortune soul screaming to their death.
General Info
Comments
2
Media
Colored Pencil / Crayon
Time Taken
...
Reference
...