DOA OC- Hong Chang Jin
DOA OC- Hong Chang Jin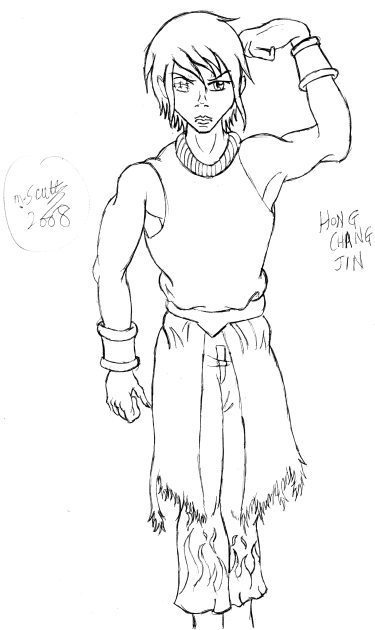 Description
Lineart for my OC for DOA, Hong Chang Jin

A bit of a bio now:

Name: (geez, i've already written it twice >.<) Hong Chang Jin

Age: roughly 24
Date of Birth: 27th August 1984
Place Of Birth: Pyongyang, North Korea
Height: around 5ft 9-10 in
Weight: 120 Lbs
Fighting Style: a mix of Karate and Judo
Relations: None
Rival(s): Jan Lee

A seasoned fighter from the capital of North Korea, Hong Chang 'Fist of the East' Jin is a tough and hardened man, aided by years of solitude in 'exile'.

He only lives, as he puts it, 'to find someone stronger than himself. The last challenge had been fun, against a certain man who called himself 'Jan Lee.', that's why his right eye is no longer there, but a sticthed up socket. Although, if anyone asks, he merely states it was 'a mistake'.

Now travelling the globe, Hong Chang seeks out Jan Lee, and any other opponent that deems themselves worthy to fight him, in their eyes or his, as many have already underestimated him due to his featherweight appearance.
General Info
Comments
3
Media
Graphite pencil
Time Taken
...
Reference
Pose from a book