Inryus
Inryus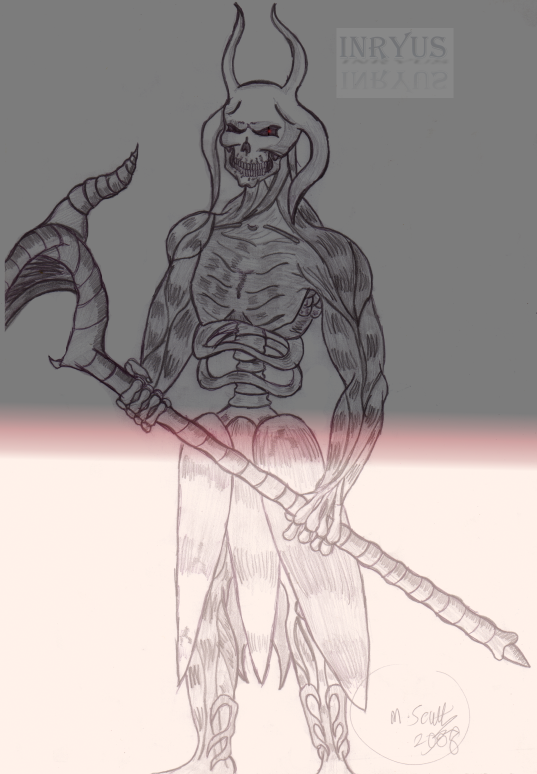 Description
Inryus (C) Bladerwolfbane, along with C.O.G
And he WAS based on Abyss for SC 3, which is (C)Namco

Well, profile:

Full name: Inryus (pronounced IN-REE-USS)
Age: -freed from the bonds of mortality, so age is unknown-
Race: Oni (yes, i know oni is Japanese for demon (i believe so anyway :S) but here I'm using to describe a sub-genre rather than an as a whole.)
D.O.B: N/A
P.O.B: The Underworld
Height: around 6ft 11 in.
Weight: -does not have a corporeal body, therefor he weighs nothing-
Eye colour: well.... the dim light that radiates in his left socket is a deep crimson
Family: -freed from meaningless concepts such as family, but is 'employed' by Gyorgious-

From the begining, Inryus had always been regarded highly by the king of the underworld, Gyorgious., but it wasn't until his 'performance' during a rebellion by a group of demons who weren't in favour of Gyorgious that the King decided to promote Inryus as his right-hand man and his 'Mediator'.

For a breif talk on hispersonality; Inryus is a cold, mean creature; he holds no values, other than the complete success of whatever orders Gyorgious had given him. He has no belief in concepts such as 'friendship' or 'romance', although he, bizarrely had a breif 'thing' with Hanon's big sister, Yumi.

Inryus, however powerful he may be, does not do things out of his own will; that is to say, that he will not kill or harm someone just because he feels like it, he does only what his lord orders him to do, for he abides by Gyorgious' laws, and follows them like a religion.

Deep inside him, he harbours a deep hatred tpward the scythe-weilding Seraphim Daisuke, whose style of combat is curiously similar to Inryus' own.
General Info
Comments
3
Media
Colored Pencil / Crayon
Time Taken
...
Reference
...