Baby' Hina
Baby' Hina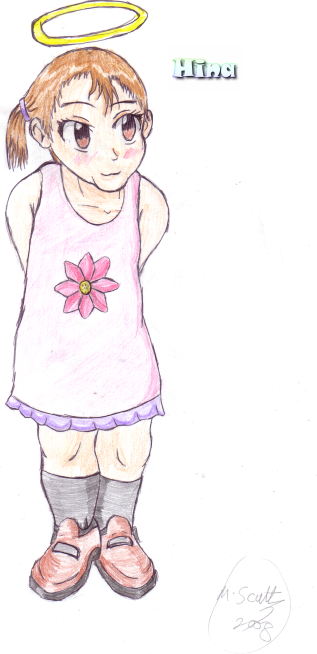 Description
Hina & COG (c) Bladerwolfbane

Well, now for a profile of sorts:

Full name: Hina Orematsu
Age: 3,000/ 3 years old
D.O.B: 29/04
Height: not sure, same height as a 3 year old XD
Weight: 20KG
Parents/Siblings:
Father- Takashi Orematsu
Mother- Ryuki Okikage (now Orematsu)
Elder Brother- Codi Orematsu (6)
Elder Sister- Kirie Orematsu (9)

'Baby' Hina is her father's pride and joy, although Takashi devotes alot of time to his family, the two people he spend a marginally small amount of time with more than the other two are Hina and Ryuki.

And Hina knows this; although she is only three, she is much more intelligent than an average todder, and she knows her father will do just about anything she wants...

...which is hampered by the fact that she hasn't yet learnt to talk properly; she can speak a few words (one very well, 'COO-KIE' XD), but mostly it's nothing more than burbling noises and a few gurgles, so her family has come to understand what she wants via her expressions or a few gestures that she makes.
General Info
Comments
0
Media
Colored Pencil / Crayon
Time Taken
...
Reference
half a pose from a book, half is my own idea