Kirie
Kirie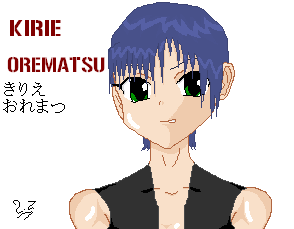 Description
N.B: the base is my own work, based on a pic of meduna fom 'the night when evil fals', and L.Z are my deviant art initals

Kirie & COG (C) me

Ok so profile;

Name: (well... it's up there)
Age: roughly 9 human years ( i know she doesn't look it here XD)9,000 demon years
D.O.B: 18/ 12
Height: not sure, same height as a 9 year old XD
Weight: 39KG
Parents/Siblings:
Father- Takashi Orematsu
Mother- Ryuki Okikage (now Orematsu)
Little Brother- Codi Orematsu (6)
Little Sister- Hina Orematsu (3)

Kirie is the eldest of the Orematsu siblings, and is extremely mature, despite her age.

She is not subject to being loved more than her brother or sister by her mother, but her father, although he does care about her very much, does not spend the fractionally small amount of time with her that her mother does.

Kirie is very protective of her brother and sister, and will do everything in her ower to ensure that they don't get themselves into trouble... well, at least not TOO much trouble XD.
General Info
Comments
2
Media
Pixel art
Time Taken
...
Reference
picture of Meduna