Hannah Quester
Hannah Quester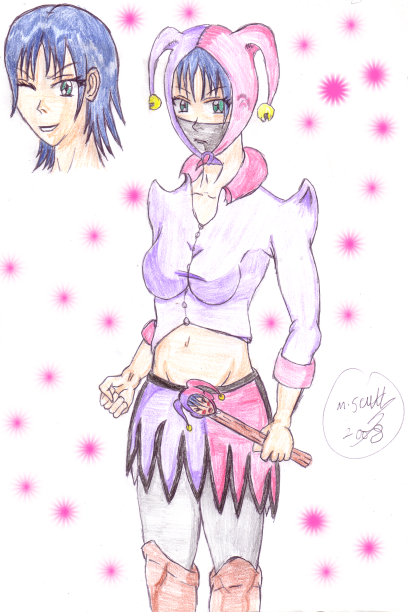 Description
Pics f***ked, needs redoing. and (C) Me
Teen Titans (C) whoever

well, i had like a million OC's forthis, now it's down to 2 hooray!XD

Profile:

Name: Hannah Quester

Alias(es): Harley Quinn (alternate name, used while commiting crimes in disguise.)

Age: 18

D.O.B: 27th August 1990

P.O.B: Windsor, England, now lives in america

Height: around 5ft 2in

Weight: 136Lbs

Hair colour: naturally Ginger, but did a good job dyeing it blue.

Eye colour: green

Alignment: Evil, always was XD

Super powers?: No, just extemely nimble, agile and good at cracking safes, locks and skulls.

Family?: Mother- Died after Hannah's 3rd birthday
Father- Maximillian Quester- extremely ill, in a life threatening condition
Lover?: Gatz, the warlock and my other OC, age 23

Reason(s) for her life of crime?: Knowing an ordinary job won't get her the money to save her father's life quick enough, Hannah and her lover Gatz turned to crime for a solution.

Any other info?: The small jester's baton (which has a mini version of her head on top of it) she carries has a life of it's own, plus, it's very good at breathing fire.
General Info
Comments
5
Media
Colored Pencil / Crayon
Time Taken
...
Reference
...