Hikate
Hikate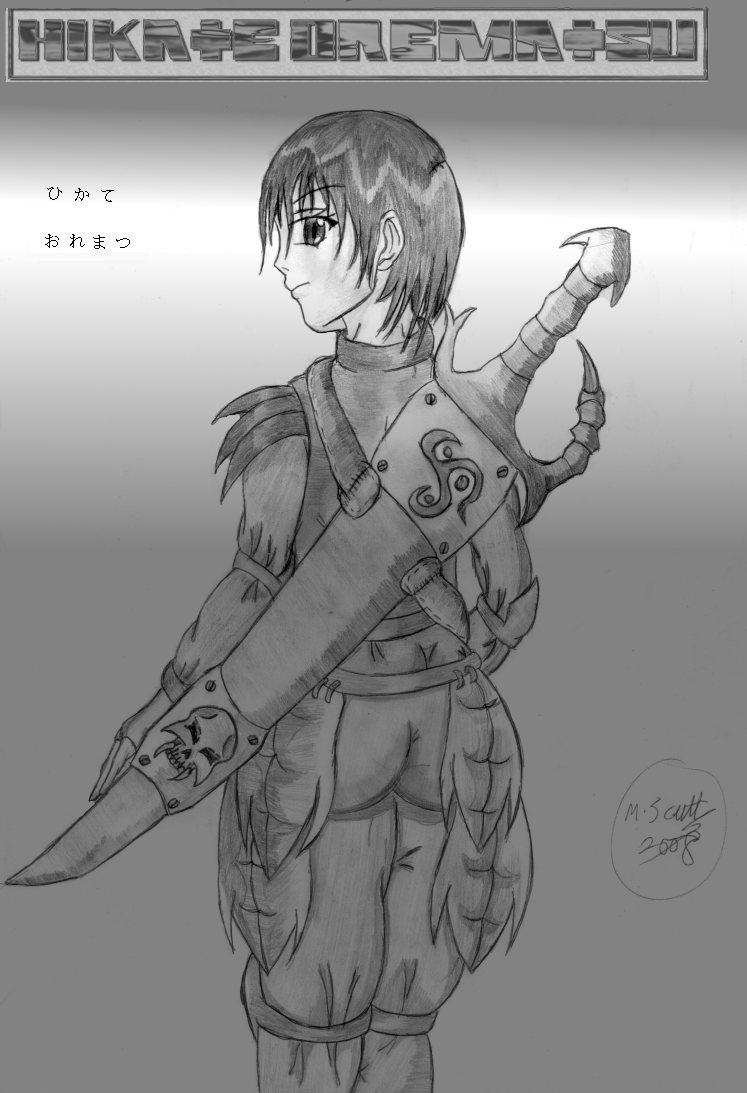 Description
Hkate(C) Meh, so anyways profile:

Name: Jeez, it's in Japanese AND english, but if you can't read that font it says Hikate Orematsu
Age: 23
Race: Originally human/demon hybrid (like her brother, thanks to their father), but now is a complete demon working for Gyorgious.

D.O.B: 17th July 1985
P.O.B: The Sohozaka realm
Height: 5ft 10in
Weight: 130 Lbs
Eye colour: Brown/Russet
Hair Colour: Black
Relations: Takashi- Brother
Codi- Nephew
Kirie & Hina- Nieces
Kazakashi- Co-worker in 'hatred' *secretly admires him*
Inryus- Leader of Her 'hatred' force
Myabi & Kiku- Co-workers in the 'Hatred' unit


Alignment: Evil

Job: Member of Gyorgious' 'Hatred' Elite force
Weapon: A large sword (Think Nel Angelo style from DMC 1 and you'll have a rough Idea)
Weapon Name: Red Dispear (named so because the blade has a reddish tint)

Description in Takashi's own words:

(1st extract of his journal)

[...]I have not seen my sister since our mother died, that was three years ago. I remember her saying she wanted to be a grea swordswoman, like our father, who had been celebrated all through the realm for his excellence and skill with the Katana.

(Now, after his 1st fight with her)

[...]I had no idea who this demon swordswoman was, but she moved quicker than lightning, despite the armour she wore. Her sword was enormous, but somehow, she had the incredible strength to wield it with one hand, occasionaly, she would swing it viciously with two hands. These attacks proved to be somewhat difficult to block, but left her wide open to a counter-attack.

(Now, the 2nd encounter)
[...] Again I have been forced to cross swords with that damned demoness! Now she seems capable of launching magic attacks from her hands, and can somehow distort time to be able of teleporting anywhere. Although I'm not pleased that she has escaped a second time, I have enjoyed being 'onto my toes' due to her new abilities.

(After their final encounter)
[...] She removed her helm before our fight, and her face was instantly recognisable. Although I hadn't seen her for severa; years, there was no mistaking she was my sister Hikate. The battle raged on for some time, and at the end, she seemed to be herself again. She'd explained to me that she'd decided to join the forces of darkness, as our father had once been a servant of the underworld. She also told me that a certain 'Inryus' had used some sort of possession on her, but during the last fight, she'd broken free of it.

I asked her to return home, but she revealed she had become a true demon, and could no longer return to our old home, and also that she'd taken a likng to a colleague of hers, and said she wanted to stay with him.

I understood, and I couldn't find it inside my heart to blame her, nor could I carry out the duty on her, which was every demon i encountered I would kill, but, even as a demon she's still my sister, so i couldn't fac up to it.
General Info
Comments
4
Media
Colored Pencil / Crayon
Time Taken
...
Reference
...