Why my OC wears a cloth around his neck
Why my OC wears a cloth around his neck
Why my OC wears a cloth around his neck
by
colt91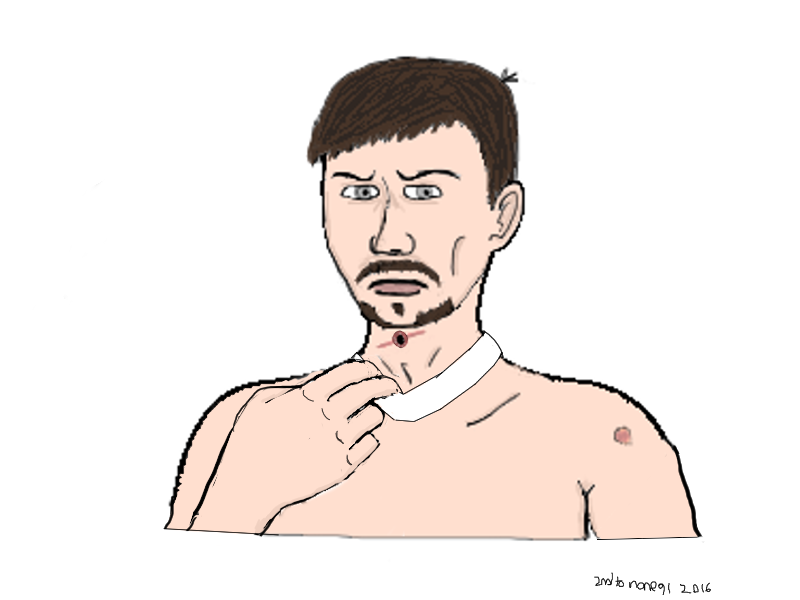 Description
Since there are some people asking me why my OC wears a white cloth around his neck. Here is your answer.
question: What happened to him?
answer: Jimmy and his partner Phil Connolly were looking for a place to lay low from the chaos that suffered in Alnoir. The both of them found a building on the outskirts of the city that they thought would be suitable for their needs for a few days. When they entered Jimmy was ambushed by a militant wielding a knife. He slashed him across the throat where his vocal cords are located. Jimmy felled down,alerting Phil he took out his revolver and shot the militant 4 times in the chest killing him. With Jimmy's throat slashed and blood covering his hand and uniform, the clock started ticking for him that he would not have long to live. Phil had to act fast to save the one who rescued him while he was getting shot at by anarchist militants. Phil thought of the hospital located in the city. However most of the staff has evacuated and medical items stolen by militants,leaving a chance that Jimmy would die if no one was available to help him. Phil had no other choice he helped His new friend in the AMX (that they acquired recently from a car dealership since Phil's police car was badly damaged) and drove to the hospital. When they arrived Phil was relived that not everyone left the hospital,thus wasted no time into heal Jimmy. The doctor who helped Jimmy was one of the few that remained at the facility patched him up but with a cost. Jimmy was already passed out when he arrived at the hospital due to huge blood loss. It would take him a few days to regain consciousness .Finally He wouldn't be able to speak again due to his vocal cords being cut.  But the doctor told Phil that Jimmy could speak again with a device. The Doc told Phil "I could make him speak again with an electrolarynx." Phil " So he would be using a device like that one guy form Angry Alex? (a parody of Mad Max) The Doc " Well I never saw that movie but otherwise yes I would need to make a hole in his throat so that It can produce vibration in the vocal cords. With that the Procedure when underway while Jimmy was still passed out. 2 days had passed since the surgury was completed, He woke up wondering what happened to him.
I don't want to get far into the story but that's how it went.