leaving
leaving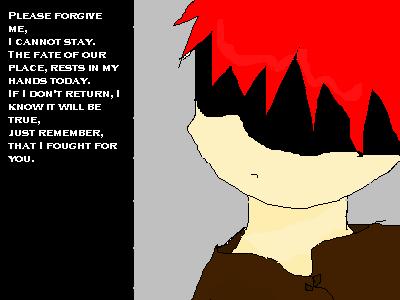 Description
Hi! Guess I should post something. huh.<br />
ok the story behind this is that on earth a battle is raging, and it's humans versus sodowins. The humans are loosing and now the only safe place for them is the landscape of their minds.<br />
The shadowins, who are copies of real people, only oposite, are trying to discover where the humans have gone. The only way for the humans to survive is to form a small group of kids to try to kill the shadowin leader. It is their last hope.<br />
This picture is of Kyo, saying good bye to his best friend, toa. His name was drawn to be one of the kids thrown into battle. <br />
Please comment. And sorry for writing so much.
General Info
Comments
0
Media
Unspecified
Time Taken
Reference