Wolfdramon Fights! [request for PunkWolfGirl]
Wolfdramon Fights! [request for PunkWolfGirl]
Wolfdramon Fights! [request for PunkWolfGirl]
by
darc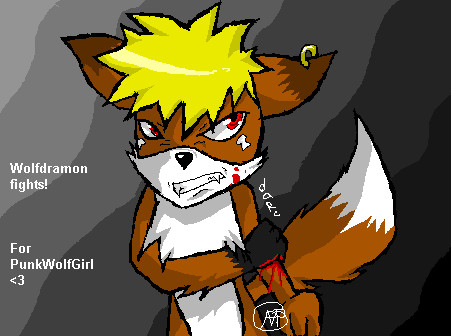 Description
Err...

Sorry if it's not in the pose you were expecting. xD;

I'm not too good with fighting poses.... but I added blood to make it seem as though he were fighting! Hope that makes up for the pose. And I hope you don't mind the added blood. xD;

Anyways, I worked on this picture for a good 2 hours. Scanner is still a dog, so I can't scan anything hand drawn or my other request. >[ So I decided to get to work with this one.

I really like how it came out. He looks off, but I still like it.

But his eyes seem a bit off balance, if you ask me. D:

Oh and there's a reason I didn't add the red fishnet on Wolfy's arm. It's because the blood was there, so it would look messed up with all that red. So I decided not to draw it. 8D

Hope you like it anyway, Punky!
General Info
Comments
18
Media
MS Paint
Time Taken
2 hours
Reference
none. i already memorized wolfy's design! 8D