a Clown and a Creeper
a Clown and a Creeper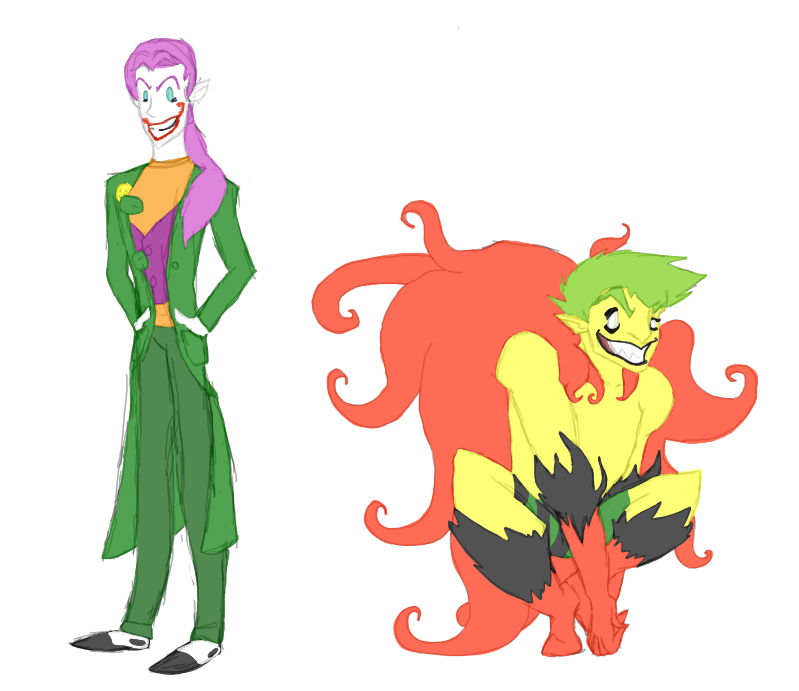 Description
This is The Jokester, The
OTHER
less violent clown prince of crime of all 52 earths in the "Countdown" comic series, and The Creeper, a manic character made by Steve Ditko for DC that also inhabits Gotham City.
               -Jokester-
[list]
[*]also known as Jackie
[*]Is a good guy
[*]Is Duela Dent's (the Joker's daughter) real birth father
[*]was killed off after nine appearances, in my opinion, way to soon.
[*]he was married to Three-Face, a female and good version of Two-face but because she was mental the marriage was nole and void
[*]he died protecting a group of heroes and trying to avenge his daughter's death. Ironically enough, among the group of people was a older Jason Todd, a Robin who was supposedly beaten to death by Joker with a crowbar
[*]there is a good chance that he's British.
[*]I would be very happy if he was British.
[*]
appears to have a lazy eye

...might just be the artist's inability to draw eyes in the correct spots...Dunno
[/list]
 -The Creeper-
[list]
[*]Also known as Jack Ryder
[*]yeah, THAT Jack Ryder that you see poking around the alley ways and that you have to save in the Batman games.
[*]he's extremely manic
[*]most series he is depicted as a good guy
[*]most series he is an entirely different entity then rider, only sharing his body and a mental connection.
[*]has one of the skimpiest outfits out of any of the male characters In DC
[*]was made by Steve Ditko, the guy who co-created Spiderman. 
[*]he can be seen some times in the background of animated series that involve the justice league, often only in fight scenes.
[*]He appeared in "Batman: animated series" and "Batman: Brave and the Bold" both with speaking roles and the entirety of the episode about him.
[*]Lives In gotham City
[/list]
...I totally ship these two... even though they never met. 


i love them so much you don't even know...
General Info
| | | | |
| --- | --- | --- | --- |
| Ratings | | Comments | 6 |
| Category | Comics » - DC Comics | Media | Digital drawing or painting |
| Date Submitted | | Time Taken | four to five hours |
| Views | 234 | Reference | My vast collection of comics |
| Favorites... | 1 | Keywords | Creeper, Jokester, Earth-3, DC |
| Vote Score | 2 | License | Berne Convention |