Lyso
Lyso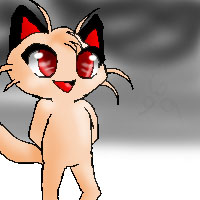 Description
I know, I know, it's not the best name. And yes I named him after a viral phase because of my love for studying diseases. And yes it's a him. No, he's not gay, he's just a little feminine and has a lisping problem. Most of my characters have a disease of some sort.
Kierra- Hemophilia
Chris- Hermaphrodite, Hemophilia
Lexia- Dyslexia, Chimerism
Professor Daisy- Obsessive Compulsive Disorder
Casey- Agoraphobia
Dave- Claustrophobia... and I can go on and on about my characters and their diseases and fears. I also name some of my characters (or their last names) after diseases. (Lexia, Compulsia, Autusm,Schizodaya)
And Lyso is not a pokemon It's a pokeman.
General Info
Comments
1
Media
Digital drawing or painting
Time Taken
Reference