Chase Young... finally cool.
Chase Young... finally cool.
Chase Young... finally cool.
by
deadness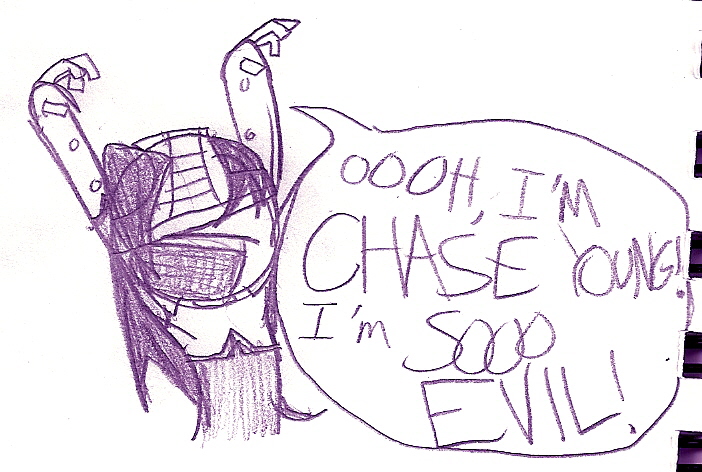 Description
Believe it or not, this makes sense... kind of... in its own obscure way. Has to do with a new comic I'm making. I'm on page 6, and still going... which for me is just--wow. I shall upload it!! Bout I can't give any spoilers :) Let's just say it got confusing, so I had to color-code the speech bubbles.
EDIT: I am SO not uploading it. What a surprise eh? So uh, plot synopsis anyone? So this thing can make some sort of sense??
Kay, so what happened was Jack was futzing around in Chase's lair for whatever reason, and when Chase caught him he totally spazzed out. He tried to leave with his helibot but Chase just grabbed on to his foot... mainly just to freak him out. (Jack's scream turns him on... :D) Jack didn't bring the Golden Tiger Claws but he DID bring the Ying-Yang Yoyo, and by an impeccable plot twist he tried using THOSE to get outta there. Chase just grabbed them, dispelling the magic but tangling his and Jack's hands together. They tried both activating the Wu at the same time to untangle themselves, but instead it switched their chi around. BASICALLY, they body-switched. This is Jack's well-planned-out revenge. That or he really didn't know where the spiked briefs went.
"Um... it's a Spiderman mask! Wait that doesn't work."
General Info
| | | | |
| --- | --- | --- | --- |
| Ratings | | Comments | 5 |
| Category | Cartoons » Xiaolin Showdown | Media | Graphite pencil |
| Date Submitted | | Time Taken | |
| Views | 1403 | Reference | |
| Favorites... | 3 | Keywords | |
| Vote Score | 1 | License | Berne Convention |