The Drama Mamas Commentary On Twilight
The Drama Mamas Commentary On Twilight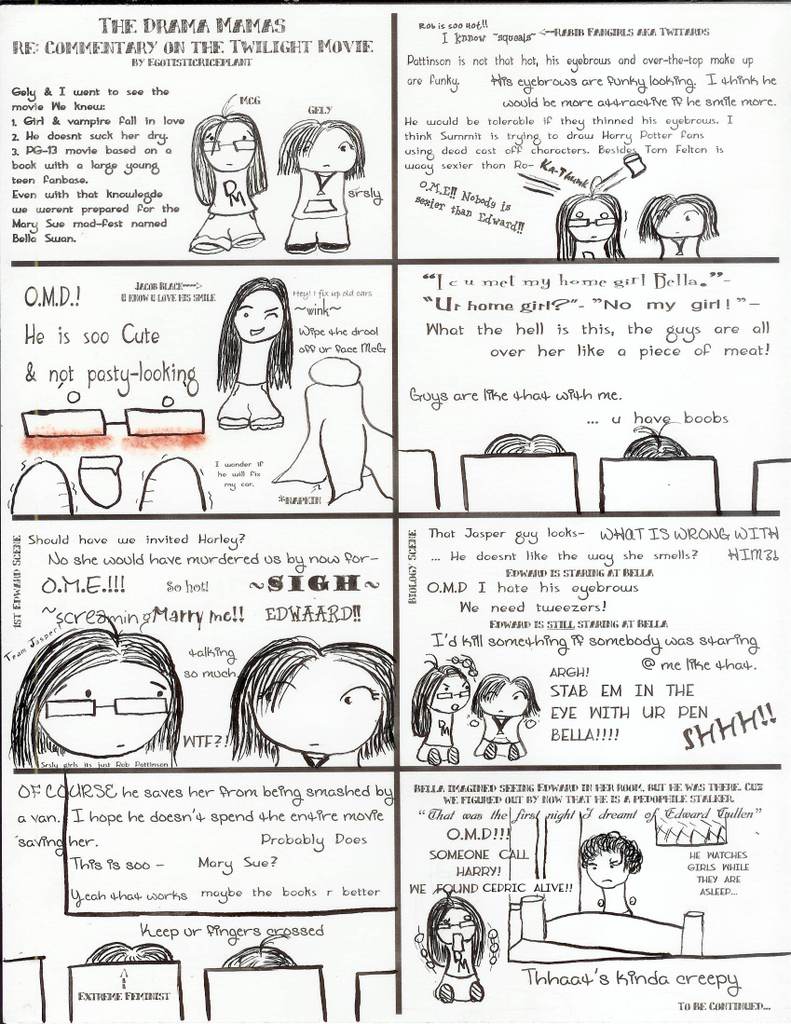 Description
hello I'm posting again soorry it took soo long and It's not the best stuff in the world. I made some characters McG short for Mcguyver (cuz she has a bag of holding and can Mcguyver everything out of anything in her bag. And her companion is Gely like Jelly. McG is on the left and has the scrawly font and Gely has the loopy cheerleader script.
I don't want whiny RFGs to read this and think I hate Twilight all together. It's not epic nor romantic I don't care if Edward is a vampire he still thinks wayyy too much for a guy. And he is way too controlling I would have said Back Off and go ahead and leave me you'll be back. And the entire can't visit Jacob crap i would have found a way to dismember him and like nail him to the floor and left him to put himself back together but that's if I were in Bella's place. yeah I hated the movie and the comic will show you why and how.
I don't own Twilight
if I did I'd figure a way to kick pattinson off the cast list cuz He's UGLY think ape, or may I add unbathed werewolf (not shapeshifter) and I wouldn't have written breaking Dawn OMG Vampire babies gross.
I will delete comments made by whiny RFGs who have set themselves up for disappointment because any man who comes along and acts like Edward is a sexist rapist with stalker like tendencies.
Enjoy!
General Info
Comments
3
Media
Ink or markers
Time Taken
Reference