A Tale of Tingle
A Tale of Tingle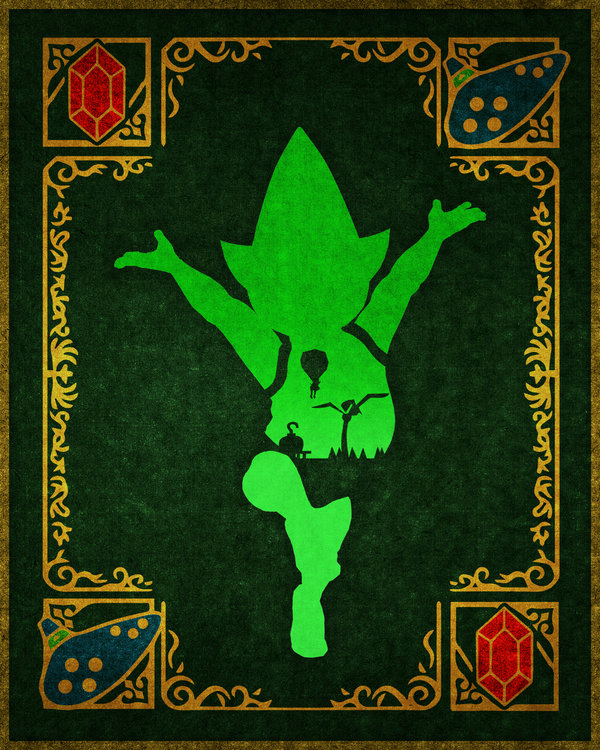 Description
A Tale of Tingle
~
The Legend of Zelda: Majora's Mask
>>>
Available as prints, pillows, mugs, and more over on
RedBubble
Love him or hate him, Tingle gets people talking and that is exactly why I wanted to make a piece regarding this quirky character that originated in
Majora's Mask
.

With the recent re-launch of
Majora's Mask
for the 3Ds has come a huge wave of fanart depicting various things from this awesome game and Tingle is obviously no exception. Silhouette art is also quite popular at the moment and something I, personally, enjoy and wanted to take a stab at so this is my first attempt at such. My style, however, is far too intricate and opulent to just leave the piece at a silhouette, so I decided to add in some borders and other imagery to complete the poster off. The borders are taken from one of the collectors editions of the 3Ds and modified to depict two prevalent items from
Majora's Mask
: the Ocarina of Time as well as Tingle's beloved rupees.

The end result of this piece very much reminded me of old storybooks that had gold leaf designs and whatnot so I decided to run with it for the name, too.

Besides Tingle, a Midna version of this piece is coming very shortly so I hope you all enjoy them both!

General Info
Comments
0
Media
Digital drawing or painting
Time Taken
Reference