W.I.P. The Nerds -lineart-
W.I.P. The Nerds -lineart-
W.I.P. The Nerds -lineart-
by
feari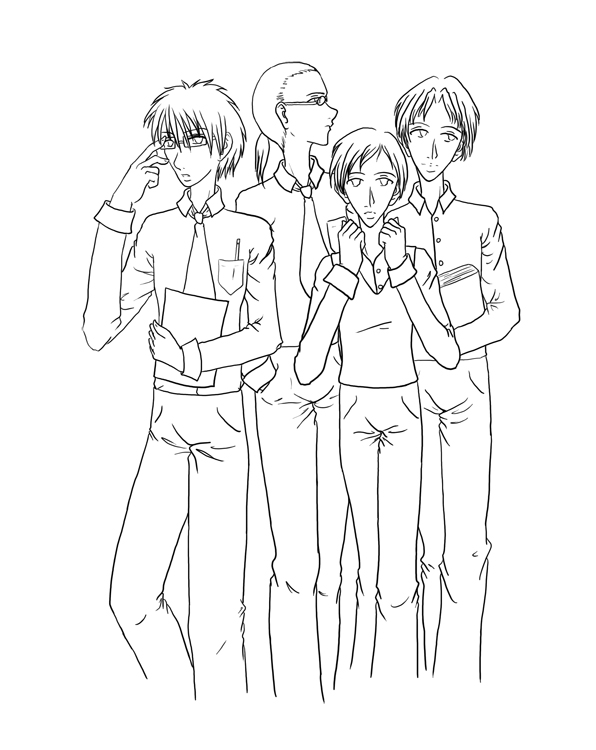 Description
Dangit... I had this whole long explanation and then my internet died and I lost it all.... Curse the internet.... >.>
Anyway. This is a picture that I had sketched out a bit of a while ago (it just popped into my head and I don't remember where I got the idea...), that I had never done anything with. So I finally decided it deserved some publicity. Anyway. So. Here's the lineart. I know there are little areas where the lineart looks kind of wonky, you don't need to point it out. I know, and it's fine by me if you know it too. Thanks.
So, I'll get around to colouring it at some point... I don't know when, so if you want to colour it, just let me know, message me, note me, whatever, and just let me know, and link me to the finished piece and I'll :+fav: it.
Here's a link to a larger version of the lineart:
http://ic1.deviantart.com/fs12/i/2006/275/d/e/The_Nerds__lineart__by_ShinkonoKokoro.jpg
I gave them all names too.... I doubt I'll ever do anything with my nerds, but that's okay. From left to right:
Aaron,
Weir,
Cameron,
Curtis.
(c) me
Dang, it'd be nice to have nerds like these at your school...
General Info
Comments
2
Media
Digital drawing or painting
Time Taken
2 hours
Reference
none