I Want to Be with You
I Want to Be with You
I Want to Be with You
by
feari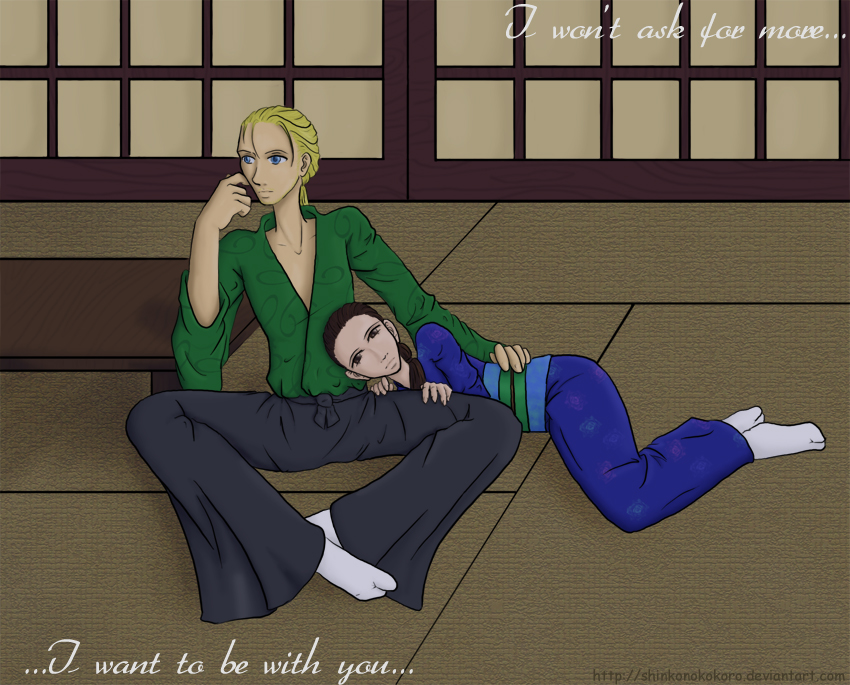 Description
This is a piece of fanart for James Clavel' Shogun. It's a wonderful novel, despite the fact that it's 1152 pages long. But it was so fantastic that I thought it deserved some fanart. THe characters are brilliant, and I really loved the book. So. I meant to attempt a realistic style to do this piece. When that failed miserably, I went back to my usual style. Which worked considerably better. Unfortunately, now as I look at the finished product, it's not quite how I want it, and I don't want to go back and spend the time on it to fix it. That would take quite a while. So I'll have to be moderately satisfied with this one.

My rendition of John Blackthorne ((An english pilot in the 1500s who sails to "The Japans" and gets ship-wrecked there, and ends up in good favour of the guy who's trying to become leader and falls in love with the Japanese Mariko who can speak Portuguese and thus translates for him.)) and Mariko ((the Japanese woman that Blackthorne falls in love with and whom she loves in return.))

art (c) me
John Blackthorne and Mariko (c) James Clavel



-SPOILER ALERT ((in case you ever want to read this book. I recommend it. Seriously. But in case you don't, I'm spoiling the ending below.))

*
*
*
*
*
*
*
*
*
*
*
*
*
*
*
*
*
*
Yeah, at the end, Mariko dies, and so she and Blackthorne can't be together and it's all very sad. And Blackthorne ends up stranded in Japan, 'cause his ship was burned.
General Info
Comments
0
Media
Digital drawing or painting
Time Taken
3.5-4 hours
Reference
none