Fanart Favourites 2.0
Fanart Favourites 2.0
Fanart Favourites 2.0
by
feari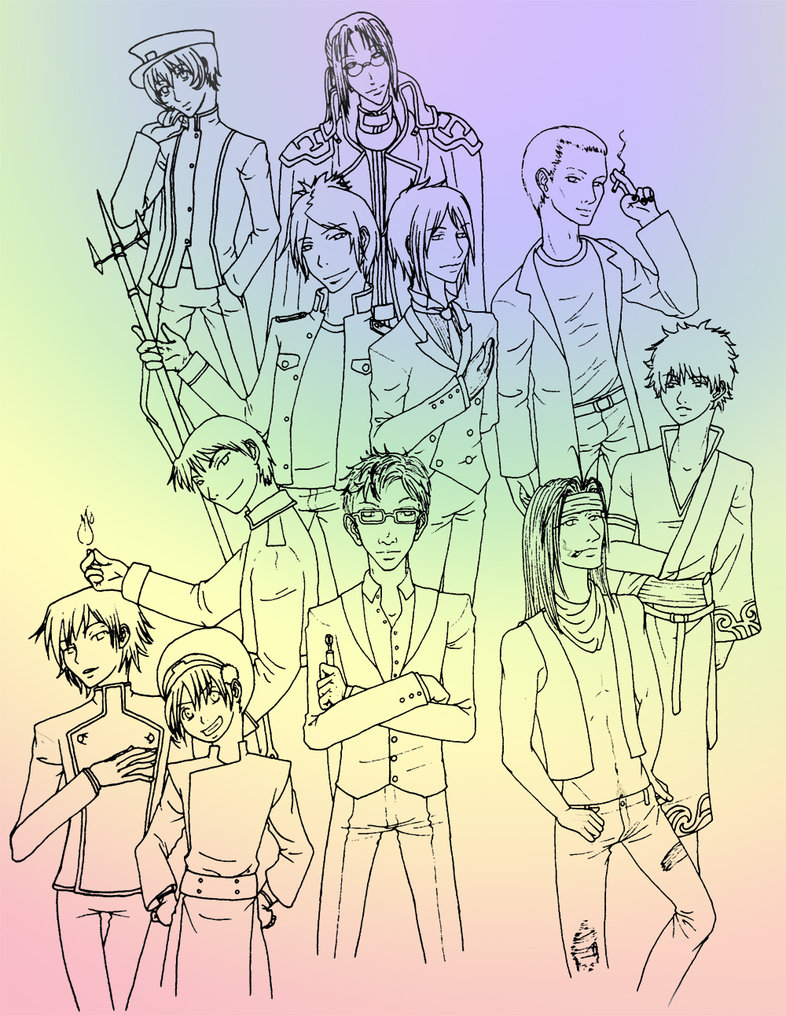 Description
V, Roy is for you. ;)
So... I did this on a giant sketchbook (that's probably forty years old, no joke--got it from my grandma) and the dimensions are 14x17. So I obviously couldn't scan it. However, I had already gone through and INKED everything by hand, so I took a picture. Unfortunately in the process of making it black and white, there were some details lost and the lines are not as crisp as I would have liked.
But enjoy anyway.
I paid a lot more attention to artist styles in this one, so I was careful to keep the style relatively the same and not use my own. Unlike my first one. Which you can find here:
http://www.fanart-central.net/pic-775674.html
Characters are (from roughly left to right, top to bottom):
Utena Tenjou (Revolutionary Girl Utena)- The Movie uniform. Always thought it was chic and stylish. :)
Abel Nightroad (Trinity Blood)- Big fan on his character design
Rokudo Mukuro (Kateikyoushi Hitman Reborn)- He's awesome and definitely my favourite.
Sebastian Michaelis (Kuroshootsuji)- What needs to be said? He's cool, suave, well-dressed, unflappable, and adept at everything.
Spike (Buffy the Vampire Slayer/Angel)- So...not manga, obviously, but I think he's pretty BA, so he deserves to be here
Roy Mustang (Full Metal Alchemist)- Snarky and confident=Win!
The Doctor à la David Tennant (Doctor Who)- Another non-manga character who is probably the love of my life
Sha Gojyo (Gensomaden Saiyuki)- Win! SO much win. And I think those hips may be the sexiest hips I've ever drawn!! And the closest to Minekura's style I've ever gotten...
Gintoki Sakata (Gintama)- More recent fav, Gintoki is pretty hilarious, yet he comes through in a pinch and when you need him to.
Lelouch Lamperouge (Code Geass)- He's pretty brilliant and did everything right in the end.
Toph Bei Fong (Avatar: The Last Airbender)- She's just awesome. Toph kicks @$$. Seriously.
General Info
Comments
2
Media
Ink or markers
Time Taken
Reference