Hell
Hell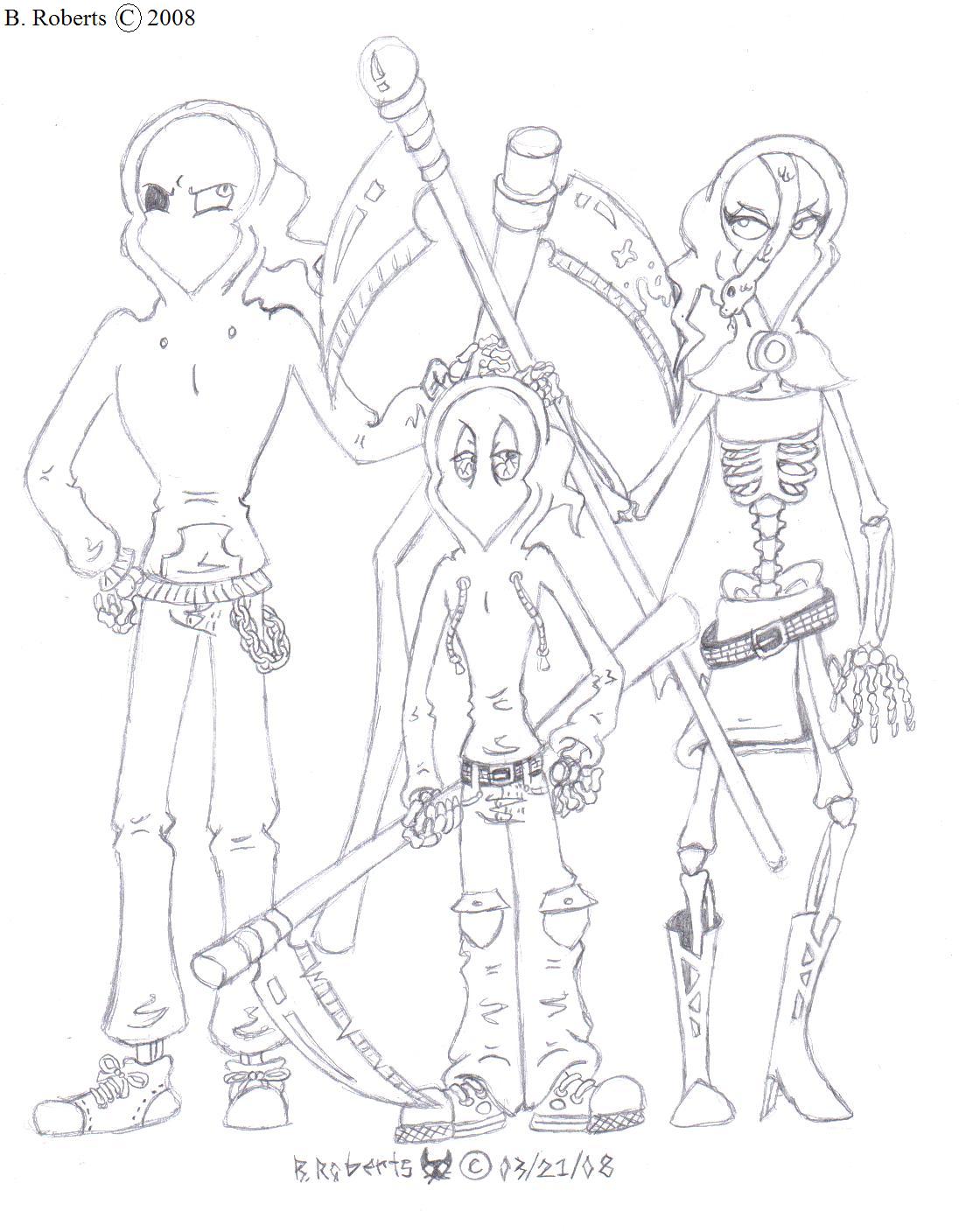 Description
In the afterlife
You could be headed for the serious strife
Now you make the scene all day
But tomorrow there'll be Hell to pay
People listen attentively
I mean about future calamity
I used to think the idea was obsolete
Until I heard the old man stamping his feet.

This is a place where eternally
Fire is applied to the body
Teeth are extruded and bones are ground
Then baked into cakes which are passed around.

Beauty, talent, fame, money, refinement
Top skill and brain
But all the things you try to hide
Will be revealed on the other side.

Now the D and the A and the M
and the N and the A
And the T and the I-O-N
Lose your face, lose your name
Then get fitted for a suit of flame
Quoted as such is "Hell" by Squirrel Nut Zippers...
That's because Hell is these guys' business. They're a team of Grim Reapers that I made up when I was twelve, and they're due for a resurrection!
Let's get to know them a little better, shall we? We'll start in the order that they are standing...
The first guy is Death. He is the original Grim Reaper from the beginning of time. He has been known by many names, but prefers Death for its sensibilty. As you can see, his clothes aren't that...well, fasionable. That's because Death can't keep up with the times very well. He's a fuddy-duddy, and kinda stupid at times too. It doesn't really matter anyway, because he's also
hard-@$%
with brute strength and doesn't mind demonstarting so. Death enjoys his job a little too much and takes out his left over sedistic anger on his fellow lesser Reapers, especially Melvin (the one next in line). As for the shoes...don't go there. He'll go medival on you. (I drew them there when I was twelve, thought they were hilarious when I dug it up again, and had to keep them...for the most part). XD
Next in line there (as mention a few sentences ago) is Melvin. You may remember him from a few older posts...Even if you don't, I'm gonna explain him right now anyway, so it doesn't matter. Right. So, Melvin was not always a Grim Reaper. He was once an actual human being much like you and I. Except he was a pirate, much unlike you and I. Pirates do not live very good existances, and thus Melvin did not live long. He died at the age of 25. How, you may ask? Well, on his last trip on land he had an sexual meeting with the governers wife...but dudn't quite get away with it. Needless to say, he was hanged the next day. Well, as pirates also live a very sinful life, you can expect where Melvin was going...When Death showed up, Melvin thought fast to get out of his horrible eternity...He then made a deal with Death that he would be his new assisstant for eternity and do all the really horrible underworldly jobs for him as long as Death spared him his fate. Thus you have him in all his boney glory that you see now.
Third you see the only female Reaper. Her name is Medusa. Is she THE Medusa? Well, she does have snakes for hair, and taking off her hood can result in a person turning into stone...but that could very well come along with her Reaper powers...I'll admit, I didn't come up with a story for her. I didn't when I was twelve, and I still haven't done it yet. So I guess I'll get back to you on that one...At least she looks cool!
Melvin also shouldn't be THAT short...it's more or less because Death and Medusa are freakishly tall...
Right. So hopefully you'll be seeing more of these guys. It all depends on if I can play off of the old stories and tweak them to be newer and better and...stuff.
I guess you'll just have to wait and find out...
BTW, I put them in Macabre and Horror because it had to do with the Grim Reaper and Hell and stuff...
Also, if ya wanna hear the song, click here:
http://youtube.com/watch?v=r5dSHFerBV4
General Info
Comments
3
Media
Graphite pencil
Time Taken
Reference