Aero - Full Body
Aero - Full Body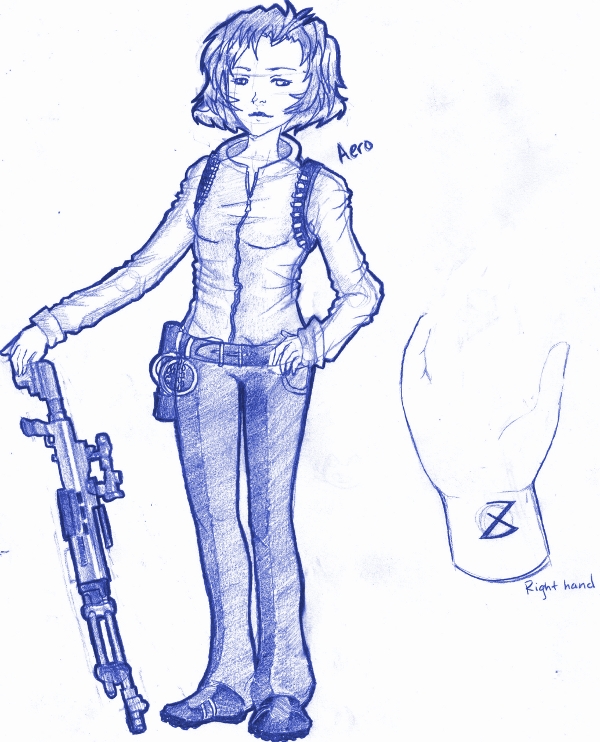 Description
Full body of my RP chracter for a Mirror's Edge Board. I have decided that she is a Blue, (was gunna make her a Runner, but I think Blues can be more fun ;D) and yeay! :D
Things to know about Aero:
Name: L. "Aero" Mitchell
Age: 20
Gender: Female
Sexual Orientation: Homosexual
Class: Blue
-
Hair: Light Brown, falls a little above shoulders.
Eyes: Hazel
Complexion: Sallow
Ethnicity: Caucasian?
Body Type: Lanky, angular
Tattoos: One on the inside of her right wrist, small cross symbol
Clothes: Dark blue tank-top for comfort, otherwise she wears a loose sweatshirt with large collar and cuffs. When wearing the tank, you can see a good amount of bracelets. Necklace. Khakis - black with athletic, black shoes. One gun strapped on her back with a holster. Flashlight and handcuffs attached on belt.
-
Brief History: Parents (former runners) left her when she was 14 for selfish reasons. Suggested that she was a heavy smoker, now heavy on gum. Dropped out of high school at 16.
Motivation: Her strong sense of justice and hatred for runners (because of her parents)
Other: Has had an on-off relationship with a girl whom is unknown. Aero feels guilty all the time about the girl but never goes into detail about her love life; unless slowly probed for information.
Things I don't like about this drawing:
-she turned out too curvy D=
-hair too big
-gun looks funny xD
-needs a darker sweater
Things I like:
-the pants 8DDD
-Her tatoo
http://standforsomething.proboards.com/index.cgi
General Info
Comments
2
Media
Graphite pencil
Time Taken
1.5 hours
Reference