Pokemon Mystery Dungeon: Time Twist Comic Cover
Pokemon Mystery Dungeon: Time Twist Comic Cover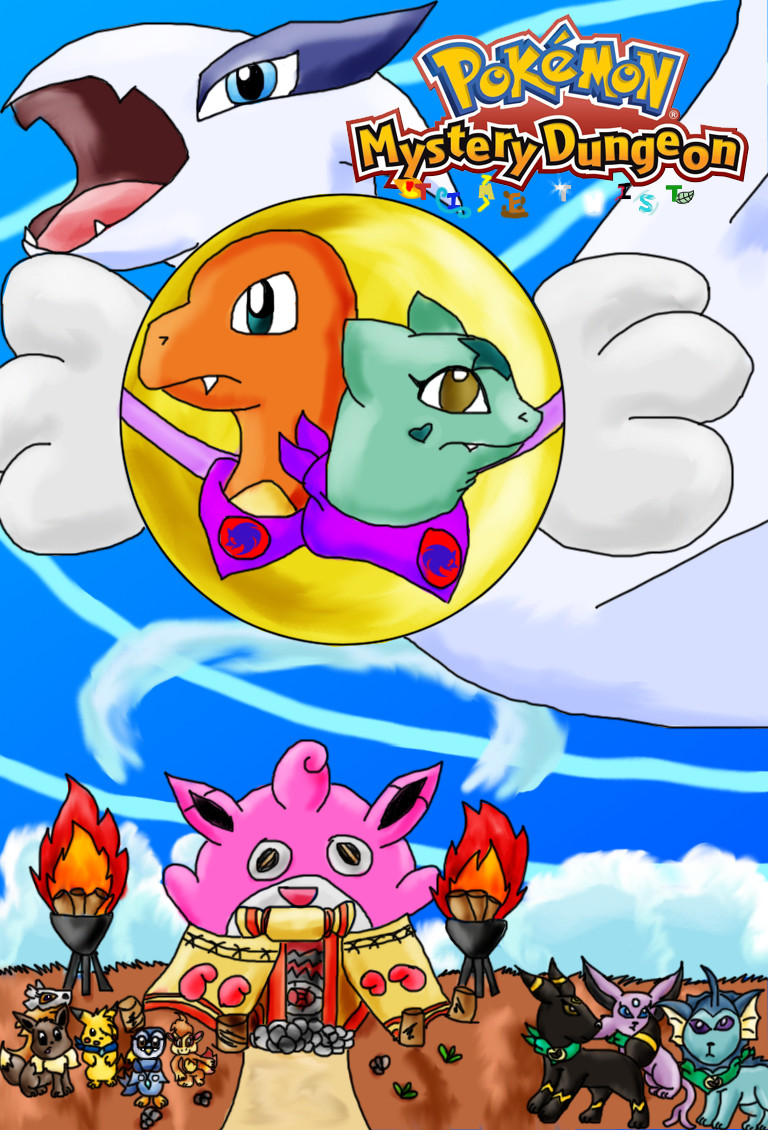 Description
Edit: Added Kendal the Chimchar at the bottom ^^
Comic can be read on
www.hedgey.deviantart.com
This is the comic cover for my new comic titled, "Pokemon Mystery Dungeon: Time Twist"!
Sorry if it's kinda big, I tried to get it smaller but then the characters on the ground were tiny! X3
And sorry that the characters on the ground are so small, I only noticed once I zoomed out of the pic! XD
The title appearance is very bad, it's literally impossible to read in the pic but I don't have the patience to change it now! X3 The idea was to have each letter with a different element but it looks awful! X3 I took the original Pokemon Mystery Dungeon logo from Google X3
Don't ask me why Team Eevee is bigger than the other Pokemon, I drew them first XD
Gina and Flame's rescue team is called Team Sonic! X3
And yes, that is lugia in the sky! :D
Gina and Flame are in their Gold rank medal thingy from the guild! X3
Overall, I'm actually really pleased with this! It took me hours but I love it! I can't wait to get the first page done (Which will be hard since it's going to be jsut humans, which I fail at drawing XD)
Characters:
Gina the Bulbasaur (C) me!
Flame the Charmander (C) me!
Shadow the Umbreon (C) me!
Sapphire the Espeon (C) me!
Lugia (C) me!
Aqua the Piplup (C) Aquaberry15
Kendal the Chimchar (C) chaosemeraldblue
Jet Jet the Vaporeon (C) Aquaberry15
Dream the Pikachu (C) absolutedream
Ronin the Eevee (C) roninhunt0987
Singe the Cubone (C) sexycynder
Pokemon, logo and Guild (C) Nintendo
Phew! XD
Anyway, I'm really excited about writing this (It's gonna be my first proper comic!)so I hope you'll all enjoy it! ^^
Sonic Brushes:
http://sparkytk.deviantart.com/art/Sonic-Brush-Set-78324911
General Info
Comments
4
Media
Digital drawing or painting
Time Taken
Reference