Maximum Morons page 3
Maximum Morons page 3
Maximum Morons page 3
by
iMax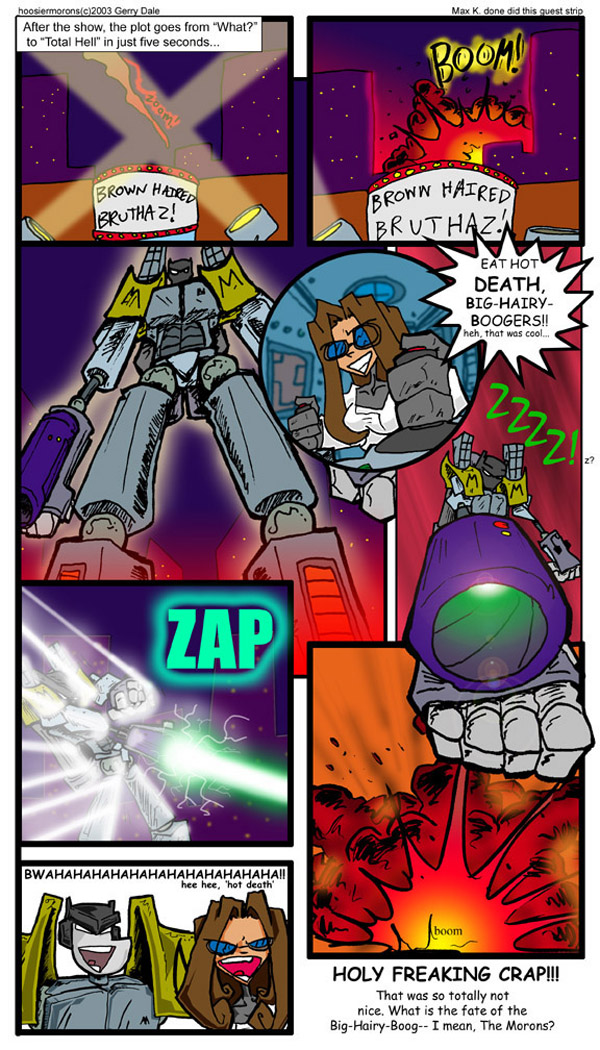 Description
Page 3. The Crap hits the proverbial fan with gusto. Also, Brown Haired Bruthaz is the name of the Boy Band they were starting, which by now, has already started. <br />
<br />
The events chronicled in this strip are right after the groups first performance. <br />
<br />
Thats Dangerous Doctor Donaghy piloting the Mega Maxx. Jorban Von Strangle influnced the chin of the Mega Max in the bottom-most panel. Fairly Oddparents is a marvelous show. ;)<br />
<br />
On a completely inrelated note, I am a fan of cosmic proportions of the anime FLCL and was not aware of its existance till after I made this comic guest run. So, imagine my delight when I realized I had placed an MM on the Mega Maxx robot. Fans of the show will understand this...
General Info
Comments
2
Media
Unspecified
Time Taken
Reference