Maximum Morons Page 12
Maximum Morons Page 12
Maximum Morons Page 12
by
iMax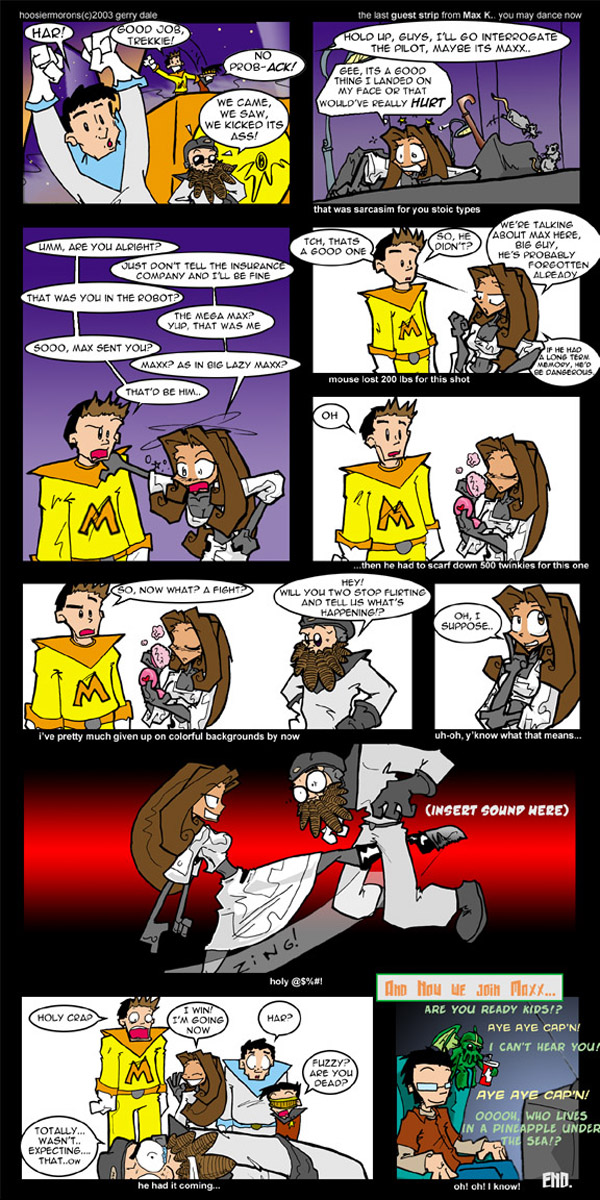 Description
Page 12<br />
<br />
Some dialouge to wrap up the run and a kick to the 'nads for flava. At the time, I didn't even know the guy getting blitzed. He had a good sense of humor about the whole thing, though. I was reading Love Hina(my collection was almost complete) at the time and as a peace offering let him borrow all of the books. Got'im hooked on'em. I dunno, The only Character I liked was Kitsune(can't remember her real name) and Mitsumi, and even that was for shallow reasons. (Read: Both Well-endowed, Mitsumi wore an Aeris Outfit once, and Kitsune had Cowboy Bebop posters in her room). Did anyone else spot Squall and Riona from FFVIII in one of the books. I swear, they're there in the background....somewhere.<br />
<br />
Meh.<br />
<br />
Still trying to figure out why I chose that Gawd-awful color scheme for the last text box in the final panel....pumpkin colored text with grey background in a neon green bordered box? What the HELL was I on?!<br />
<br />
Oh, and I still watch Spongebob Squarepants. Alot.
General Info
Comments
2
Media
Unspecified
Time Taken
Reference