OC crew
OC crew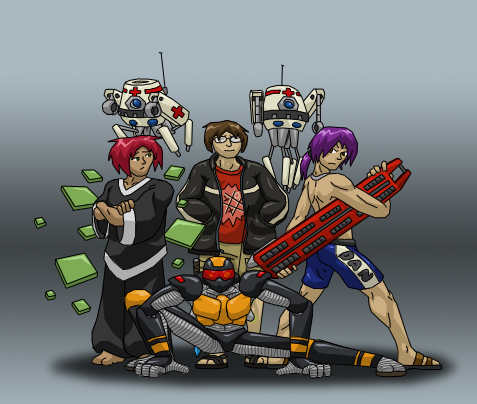 Description
i suppose this goes here, it is a group and whatnot. whatever.

anyway this is a group drawing of Me with 3 of my original characters. the idea came from an OCT i saw on DA, and 2 med bots.

Dan C, a different version of my original OC. this version is older then the original and does different stuff.

Mark C, a newer OC of mine, i actualy had to think a bit befor i chose the third character and Mark's special abilitys made him my choise.

NanoTech, he's an assassin ninja robot, he's a newer OC of mine as well, his body is made of nanotechnology which allows him to create weapons out of his arms legs ect.

Scott, according to the rules i have no powers, other then creating the OC trio, but i found a loophole with the medic bots where they become guns.

I'll probably make better profiles tommarow or later as it's 2:00 here and i need to go to bed.
General Info
Comments
0
Media
Digital drawing or painting
Time Taken
4 hours
Reference
NONE they're all mine :x