"Cat Guy" Mosaic
"Cat Guy" Mosaic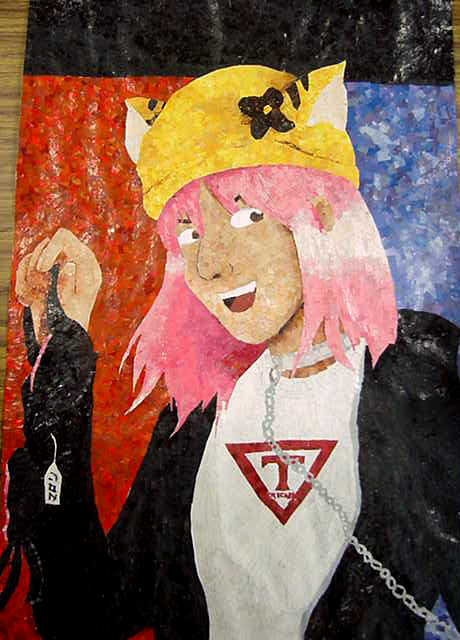 Description
"Cat Guy" Mosaic.<br />
February/March 2005.<br />
Created with only cut up magazines.<br />
Done from memory.<br />
<br />
Artist's Note: Due to the fact that this is a rather large work, and would not fit on a scanner, I used a camera to take a picture and transfer to this site. Unfortunately, it is slightly distorted (if you notice, towards the top it seems to narrows, despite the fact that it's a rectangle), so I apologize for the shine and such on it. This took me quite a long time, actually; I spent about two consecutive months on it. <br />
<br />
The subject is my boyfriend, while we were walking around the mall, he was wearing a Trigun shirt, cat beanie, leash and collar, and a hot pink wig (courtesy of Neko), and just happened to pick up a bra in Hot Topic. I thought this was so random, I'd do a picture of it in art class. So now it's a mosaic.<br />
<br />
Hope everyone likes it! Comments (and favourites!) are very much encouraged!
General Info
Comments
5
Media
Unspecified
Time Taken
Reference