Celebrating the New Year
Celebrating the New Year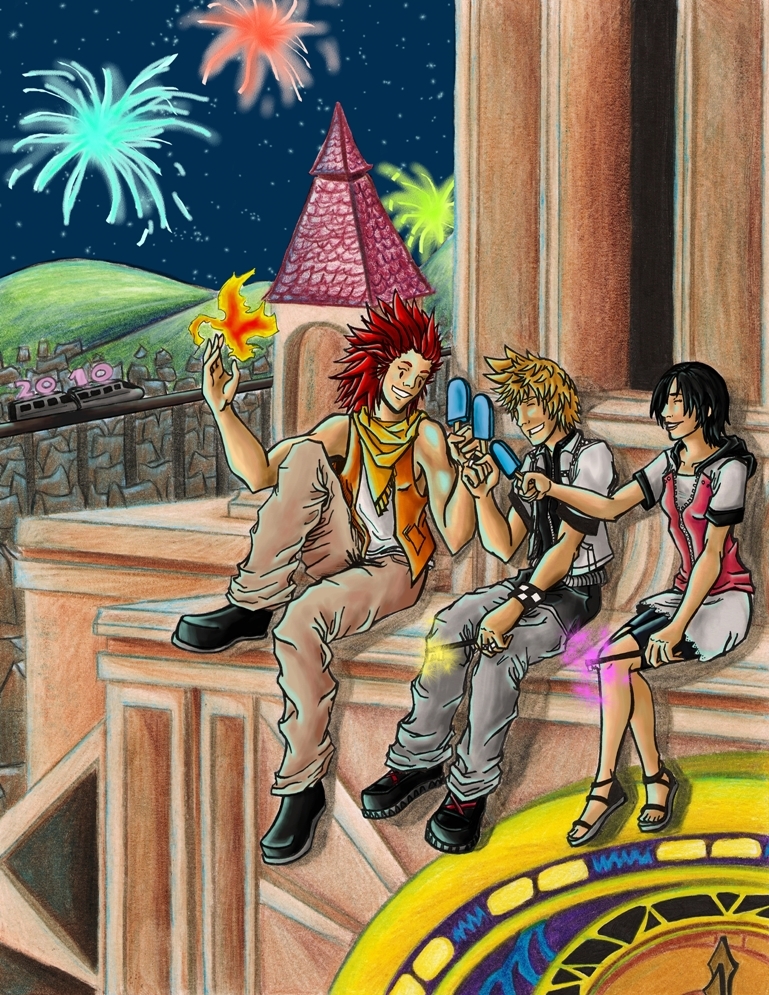 Description
This is my entry for a group on DA's "How I Spent My Holiday Contest". It's the first art contest I've ever participated in, so I'm really excited!

I figured, who doesn't love the beginning of a New Year, right? So what better holiday to exhibit than the New Year itself!

I made a pic of Axel, Roxas and Xion celebrating the New Year atop Twilight Town's clock tower. Their way of celebrating: sharing some ice cream with some sparklers and fire as they watch the fireworks go off.

Ok, I know it's not THAT original, but I thought it would be something they'd be likely to do.
Oh, and their clothes... Roxas is wearing his normal Twilight Town gear. But I made Axel wear something similar to his original self's clothing and I made Xion's clothes a weird mix of Sora's shirt, Kairi's over-vest and short-tights, and Namine's skirt and shoes. It's weird, I know. But I still like it, and it kinda makes sense.

I made the background with colored pencils (I had to use a reference of the Twilight Town clock tower in order to get it right!), but the sky, and the characters were all colored digitally. ANYWAYS...

Wishing everyone a Happy New Year!
General Info
Comments
9
Media
Colored Pencil / Crayon
Time Taken
Reference