A Brief Respite
A Brief Respite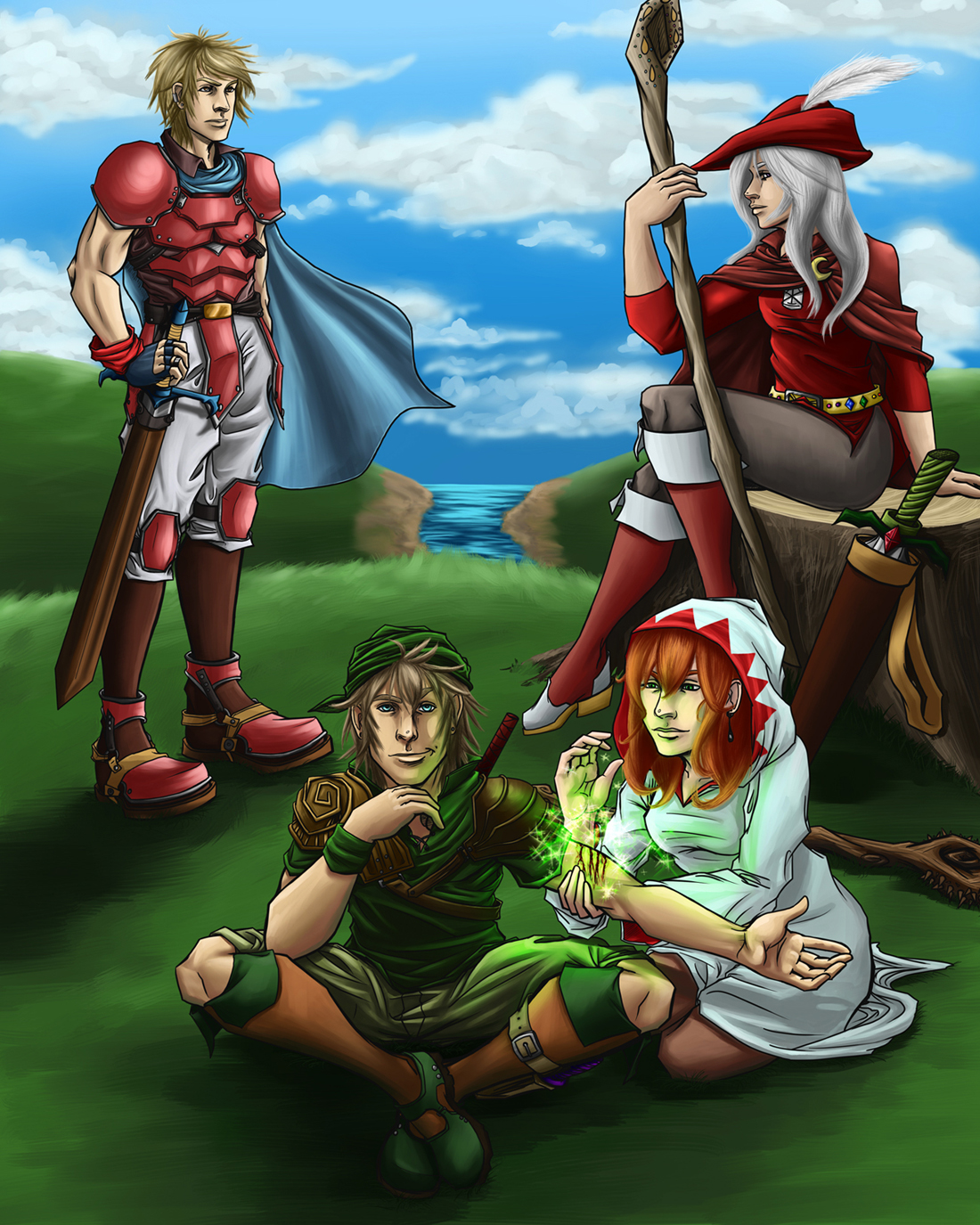 Description
I'm not actually dead! 8D
YAY FOR FIRST REAL SUBMISSION OF THE YEAR!!!!

BUT HOLY CRAP. THIS PICTURE.

This is something I started waaaaaaaaayyyyyy forever and a day ago... Like back in early summer. I had sketched it out and just sat on it foreverzzzz... because I wanted to color it all purty like. PLUS I kept running into hiccups along the way of making it. >.>
I'm still not entirely happy with the way I executed the lighting... SO INCONSISTENT ARGH!!!! >.<

Why did I start this back in early summer last year? Welp, I was playing FF1 back then and I wanted to draw my characters... Even though they are, for lack of a better description, robotic and essentially soul-less warriors in the game (because they weren't true characters in any sense) I gave mine names, personalities and stuff. :D

My party consisted of a Warrior, a Red Mage, a Thief and a White Mage; this is what I pictured them to look like... I dunno why, but I always imagined the Red and White mages to be girls for some reason.
I guess you could say I made them into OCs or something. Anyways, the Warrior's name is Vande, the Red Mage's name is Red, the Thief's name is Warren, and the White Mage's name is Lucile. Don't ask why, they just sounded like good names at the time. ALRIGHT, what I made up about 'em:

Vande is like the strong silent leader type, but is very paranoid about failure; to the point where he falls into a sort of depression. He needs lots of reassurance from his comrades. In battle, he relies on his trusty sword to do the work, striking with powerful blows.
Red is somewhat of an enigma; the rest of the team doesn't know much about her, and she keeps rather quiet. When she does speak, she likes to talk in riddles, which kinda annoys everyone else. Still, she is a great asset because of her wisdom and fighting prowess; she carries both a staff and falchion for battle.
Warren is sort of a joker, but he has a habit of getting into trouble because he doesn't really think before he acts . He means well though, keeping the spirits of the group high with his banter. He uses a dagger and carries a small sword on his back.
Lucile is gentle-natured and sweet, looking after the rest of the group with an almost motherly care. She doesn't like to fight much, but when she has to, she uses her trusty rod.

LOLZ yeah I'm blathering too much. ANYWAYS, I hope to draw another pic with these folks, maybe the "job-class level-up" scene or something. We'll see if I have time... School's a total biznatch this quarter... >.<

Painted with SAI, minor effects done in PS.
General Info
| | | | |
| --- | --- | --- | --- |
| Ratings | | Comments | 7 |
| Category | Games » - by Publisher » Square-Enix » Final Fantasy series » Final Fantasy 1 | Media | Digital drawing or painting |
| Date Submitted | | Time Taken | |
| Views | 484 | Reference | |
| Favorites... | 2 | Keywords | Final, Fantasy, I, Warriors, of, Light, Warrior, Red, White, Mage, Thief, Jobs |
| Vote Score | 1 | License | Berne Convention |