Ex bio
Ex bio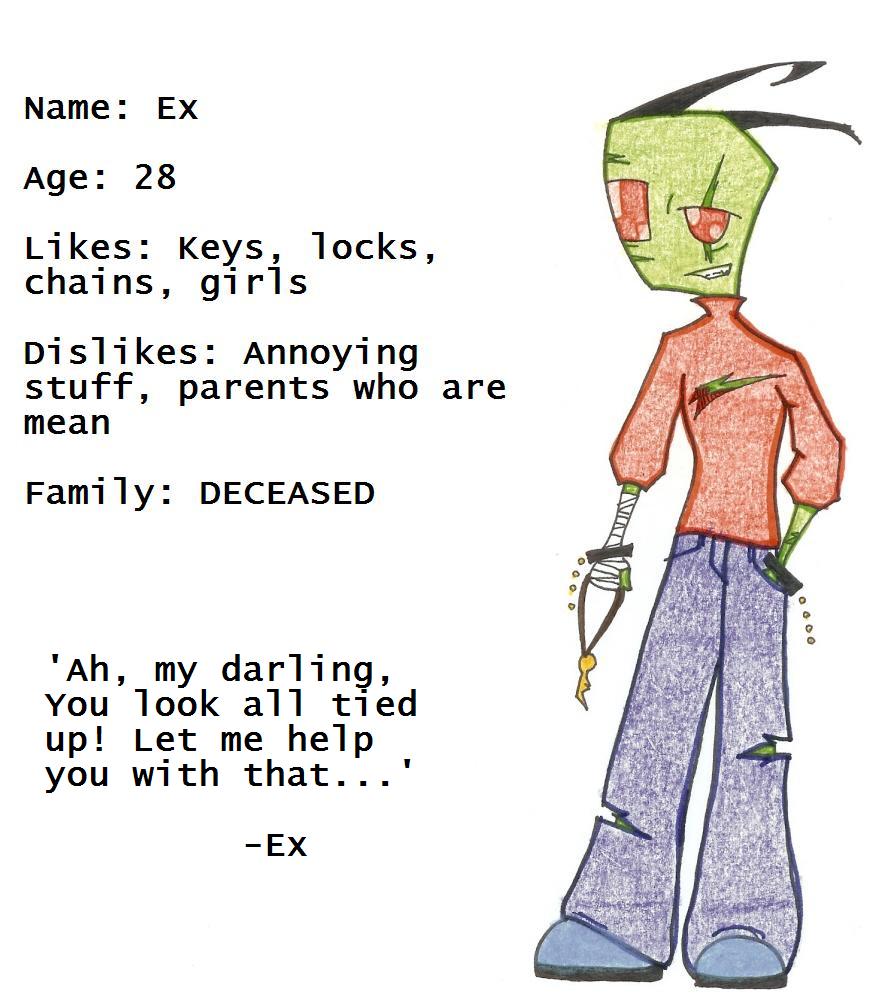 Description
Ex sat with his back to the wall, eyes closed. All of a sudden, he heard the cell door open. "EX! You're gettin' a new cell mate, okay?" the guard held a girl with a white lab-coat on, "LET ME GO! I NEED TO GO KICK MY BROTHER'S @$$! MY BROTHER IS TALLEST RED! NOW LET ME GO!" she yelled. The guard threw her inside, and she hit the wall. "Owwww...WHY I OUGHTA-" the cell door closed, and the guard locked it. She had on hand cuffs. "Ah, my darling, you look all tied up! Let me help you with that..." Ex said as he got up and walked to the girl. She was to weak to do anything, as he took a key out of his pocket and unlocked the cuffs. "Thanks..." she said. "My, what is such a beautiful girl like you doing in such a filthy place like this? And, if you dont mind, what is your name?" Ex said in a voice as smooth as silk. "My brothers a jerk-off, and My name is Ri." Ri replied. "Well, Rishia, we'll have alot of fun here..." Ri's eyes widened, "How do you know my real name?!" "Lets just say, I know more than you think..."<br />
~~~~~~~~~~~~~~~~~~~~~~~~~~~~~~~~~~<br />
Ok, yeah, Ex is kind of a pervert...but yah....<br />
<br />
REQUESTS WANTED!
General Info
Comments
2
Media
Unspecified
Time Taken
Reference