Alveraz's Mermaid
Alveraz's Mermaid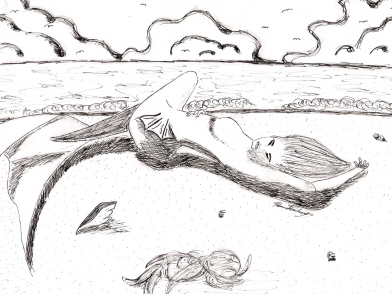 Description
I did this mermaid about a year ago. I haven't scanned it until now because I had drawn it for my US History teacher and he had stapled it to his wall. So yesterday I went in and got it off his wall and scanned it today. The reason I drew it for him is because he deep-sea fishes for a hobby. He's the head of the fishing club at school. Anyways on the back of his school ID he has a sticker of the little mermaid Ariel (a TA gave it to him as a joke) when I saw that I asked him if he was going to catch her and he was like nah Ariel is over rated I'm going to get my own mermaid. So I drew him this one. When I gave it to him he was like she doesnt have any nipples... I told him i could put them on if he wanted them but then again he'd probably get in trouble for them. Porn on a teacher's wall at school isnt the best to have. LOL. <br />
<br />
pencil and pen.<br />
<br />
yeah i know that her hand looks crappy. give me a break it was hard to draw.