School Designs & Crafts
School Designs & Crafts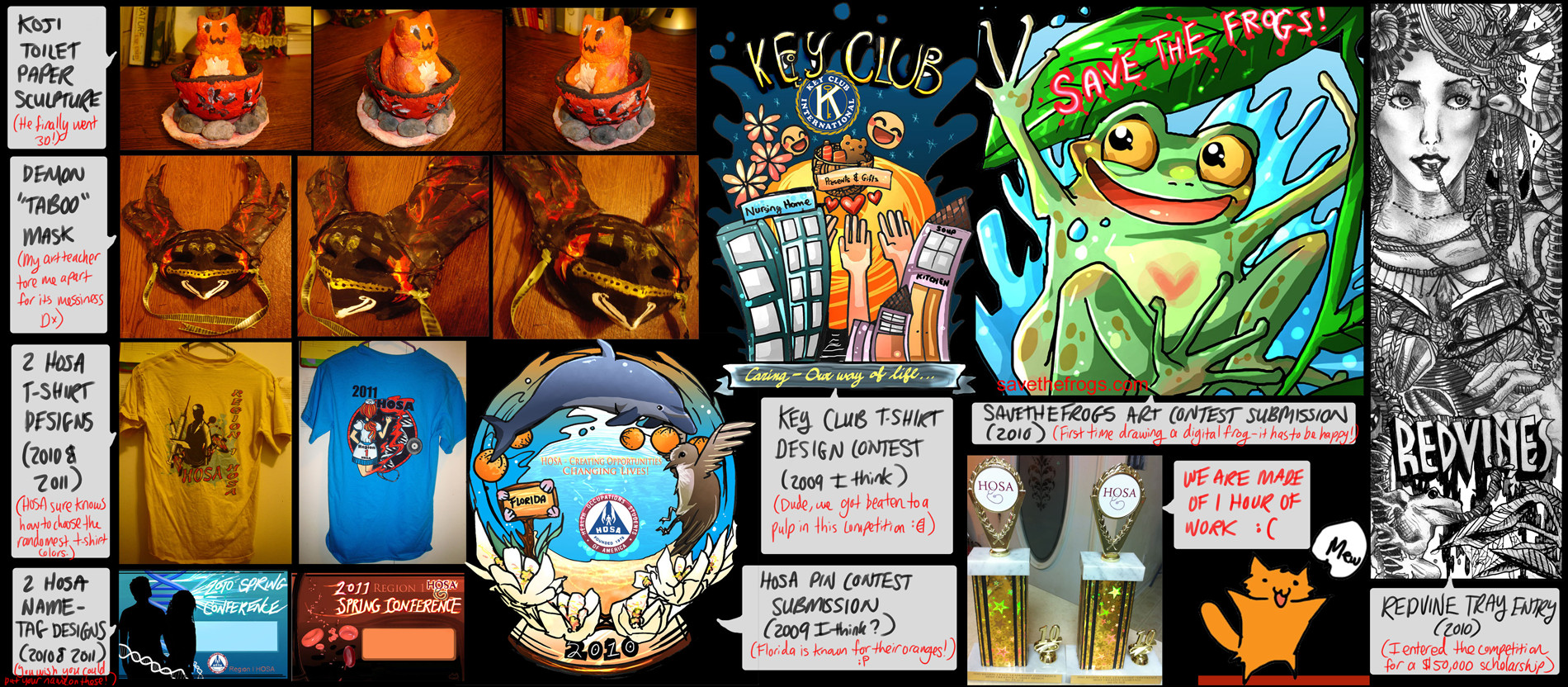 Description
More old art! These are crafts/designs that I did in my highschool years(art contests, scholarships, art projects...etc). I wanted to wait until highschool was over for me to upload all of them. Evidently and not unexpected, the file is gigantic. P;

Koji Toilet Paper Sculpture: Koji in a red teacup with stones around- like he is getting boiled on a fire, hahah. I got a 94% on this even though I totally winged the 2 hour design and turned it in late. ;n; Getting a low grade would have been more fair.
Demon Taboo Mask: My first mask ever made. Messy, but I worked a LONG 6 hour on it and loved it, and then I got an 80%. This was the height of my disappointment and anger for how art is truly "graded." This is why I do not like real art classes. PSHH I am just bitter. Bs are not acceptable!
2 HOSA(Health Occupational Students of America) t-shirt Designs: It was funny seeing my friends and the rest of the medical class wearing my t-shirts. I would be all, "Hey dude. Nice t-shirt. Whoever designed it must have been a sexy Asian genius!"
2 HOSA Nametag Designs: Really. You WISH you could put your name on those awesome nametags! I actually got a TROPHY for my tiny nametags that took 30 minutes each? I got a small medal for my 3 hour HOSA Extemporaneous art poster! WAZAajfajgihlfs!
HOSA Pin Contest: I did not win, probably because it was a number voting contest, and Coral Reed High School has MANY members, but there is always that chance my design sucked more than the crayoned dinosaur/alligator hybrid that beat me. Once again, bitterness. HAH!
Key Club t-shirt Contest: Now this is a contest that I knew I had a low chance of winning. I give a toast to those AMAZING t-shirts I saw in that Key Club convention in Orlando, FL. Seriously, I wanted to steal some of those awesome t-shirts off of people's bodies.
SaveTheFrogs Art Contest: I did not win the contest, but they are using my design for the poetry book...full of poetry about frogs. Strange, but at least it was for a good cause. I suppose this means I should stop eating frog legs in buffets.
Redvines Art Contest: You were supposed to draw a design to put on the new RedVines (licorice) tray cover for a $50,000 scholarship. I did not win, but I did enjoy drawing/designing my design. Everyone likes sexy jungle women- and frogs! :P
2 Trophies: I've got 2 other trophies like those for 2011 as well. These were for the HOSA t-shirts and nametags, which I am grateful and glad I won for, but I got TROPHIES for them? lol

There we go! More old artwork(boo-ness!) and art-trades/manga(woo-ness!) soon homediggities!
General Info
Comments
6
Media
Digital drawing or painting
Time Taken
No idea!
Reference